Name: Taylor D Gaither
From: Philadelphia, PA
Grade: High School Senior
School: Philadelphia High School for Girls
Votes: 0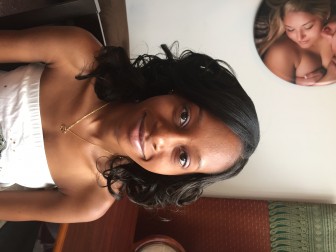 My week at vacation Bible
camp: A volunteer experience
I have had the opportunity to
volunteer on two separate occasions. The one that was most dear to me
involved a week long summer Bible camp at Narberth Presbyterian
Church June of 2015. That experience was my first time working with
children under the age of 12, and sharing my love of art. I spent
6-8hrs a day for five days assisting with arts and crafts. My tasks
included assisting the Bible school teacher with stories from the
bible and creating a craft based on each story. An example of my
duties would be telling the story of the birth of Christ then having
the children create a picture of the family of Christ as they could
see it. Encouraging the child to use their own feelings and insight
to create their own individual picture. It was rewarding and eye
opening to see each child's similarities and difference in their
picture. The biggest challenge for me was talking to the children,
because you don't want to say the wrong thing. Sharing my love of
art with the children was the most satisfaction I could have received
and being able to look at their work while encouraging their
individuality and imagination. I have learned that it takes an open
mind, patients, and kindness to work with children, because they just
want to draw/paint/glue/glitter the way they want without criticism.
I plan to attend college and
concentrate on animation and narration. I didn't go looking for
that particular opportunity, it came to me via an aunt. I didn't go
in expecting to get something out of it, but in the end I did. I
learned some things about myself, one being that I wouldn't mind
working with children someday. Children sometimes need to just free
their mind and art is a great way to do just that.
When I read the words "forward
looking" I thought of the future and how you approach it. I looked
the phrase up and decided that the activities I participated in was
not forward looking, but the action of allowing the children to
express the world or the story how they saw it was forward looking. I
say that because we didn't push our views or ideas on the children
like tradition education does.
I'm what you would consider
quirky. It's often hard to see yourself beyond labels and
stereotypes. That opportunity allowed me to see myself/look at myself
and not only be ok with what I saw, but be proud of who I am and my
talent. I hope that I can encourage others to express their own
individuality and strength.
I hope that I because I didn't
judge their ideas/beliefs/vision/talent, listened to their
explanation/reasoning of their pictures, and encouraged using the
imagination that at least one child was encouraged to be free, be
themselves.
My name is Taylor Gaither and
I am a graduating senior at the Philadelphia High School for Girls.