Name: Mikel Gonzalez
From: Long Beach, California
Grade: 9th
School: Millikan High School
Votes: 0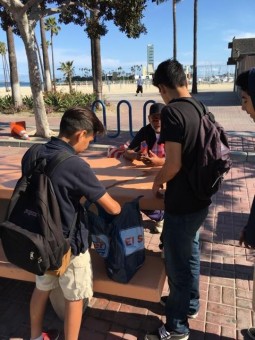 When I help out my community, I actually mean it when I volunteer I would usually go
around picking up trash around my neighborhood I like to keep my
community clean if it looks clean than it looks good. If I'm not
picking up trash I would help some of the kids in soccer train them
and teach them new skills to use in game. I choose this because I
love cleaning and making my neighborhood clean makes me feel better
about myself and helping with soccer is just something I enjoy doing
on my spare time, soccer is my favorite pass time as well.
When I volunteer I would usually practice with them for an hour or two depending on what
they want to do for practice, so per month I would at have practiced
with them for 20 hours, at least.
As a volunteer, my responsibilities are too take care of the kids and pick up trash
around the park, either from the mess the kids make or the people
that were at the park before. Other things I may do is go into the
helping center and help some of the kids with their homework, or
anything they ask help for it's a good past time or a good way to
meet some new people.
I believe that my biggest challenge when I'm volunteering is just watch who you're
talking too because some of these places aren't trust worthy, just
watch out and be careful where you volunteer.
It always satisfies me knowing that im giving up my time to help these kids who need
help, it gives me joy that im actually doing something usefull with
my spare time, like instead of me staying at home doing nothing I go
out and help these people that really need someone to help them.
Since I've started volunteering I've learned a lot too much to write down, but
I'm not the same person anymore I'm better, I've changed for
the better. This change has been the greatest thing to happen to me,
it feels good to be good.