Name: Emily Manakides
From: Mastic Beach, New York
Grade: 12th Grade
School: William Floyd High School
Votes: 0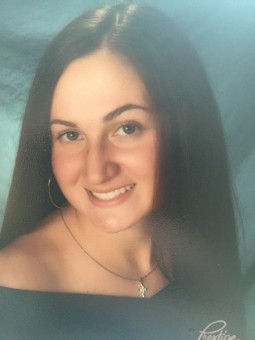 The term, "to volunteer" is another way of saying, "to give time."
I don't have a lot of money to give, but I believe that giving time
possesses a greater worth than any amount of money. Giving time
allows a person to physically give back to their community or an
organization by tutoring, teaching, cleaning, making, or doing, and
this is why community service is of the utmost importance and
promotes peace in our society.
After being evicted from my New
Jersey home, my mother instilled in my brother and I the value and
obligation in giving back. My local pantry often fell short of
turkeys during the holidays, so my mother and I took whatever money
we had and bought nearly 100 turkeys to distribute each Thanksgiving
for several years. As I've grown older I have been able to do more
in my community like help clean the local beach and the streets that
I walk on in the town of Mastic. During the summer of 2015 I was also
fortunate enough to be picked to travel overseas and help clean up
the beaches of Normandy.
As the vice president of the Best
Buddies Club, I'm also able to give time to many people within my
school. It is designed for students in Special Education to interact
freely with those in general education. All students benefit in
acquiring various social skills by participating in different tasks
in an unthreatening environment facilitated by educators. This open
interaction has no boundaries on how individuals can affect each
other, and it is so rewarding to see students coming together to
share notions and ideas with one another. Although many may not see
the significance in their volunteering, their choice to talk, guide,
and listen to those in need greatly impacts the well being and hope
for others.
No struggle or unfortunate will
stop me from improving my life and the lives of others. In college I
would like to double major in communications and biology to broaden
my knowledge on human interaction and the many areas of the sciences.
After I receive my bachelors I would like to fulfill a dream of mine
and provide aid on a larger scale, by doing service in the Marine
Corp. It is a principle of mine to give as much time and relief in
as many ways that I can, and in continuing to further my education my
opportunities to do so will increase dramatically.