Name: Allysha Bittinger
From: Lewisberry, PA
Grade: Senior
School: Northern York County High School
Votes: 26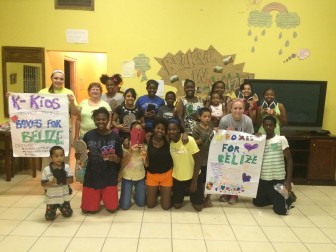 My greatest passion is helping others that live in challenging life
situations in our local community as well as internationally. I
have chosen to serve others because I feel that is important to put
others before myself.
I volunteer for the Youth Impact Project by collecting donations at
local Walmarts. I stand outside the stores asking for donations of
school supplies, canned goods, and money donations. Another
way that I help raise funds for this annual event is by coordinating
and playing in a volleyball match of boys versus girls high
schoolers. We invite families and the community to bring canned
goods, shoes, school supplies and money donations.
The Youth Impact Project supports over 2,500 local struggling
families annually by providing school supplies, clothing, haircuts,
food and much more.
For the past two years, I have enjoyed being the youngest member of a
missions group of 16 adults that travel to Belize. There, we built
homes from the ground up giving impoverished families a safe and
secure home to reside as opposed to an unstable shanty with a dirt
floor and leaky roof. The heat and other harsh weather conditions
made it challenging, but our group worked together to maintain
efficiency to complete our projects in less than ten days.
Our building team stays at an orphanage for teenage girls, their babies, and other
young kids. It's heartbreaking to hear the stories of abuse, rape,
and being sold into prostitution by their own parents, all of which
came from girls my own age. It amazes me how strong these girls are
with their desire to keep pushing and start a new life.
Equating my time on missions trips and volunteering in my community to a
weekly scenario, I estimate that I commit 5 to 10 hours per week.
The biggest challenge to serving and helping others is finding time
in my busy academic, athletic and work schedule. Volunteering has
grown me in my self-discipline, hard work ethic, and desire to help
and put others before myself. I have learned that the value of a
persons smile expands far beyond any monetary value.
Looking forward, I plan on graduating with a Bachelor Degree in Environmental
Science, as well as a focus in Outdoor Recreation. This degree
catches my interest because of my love for the environment, the
enjoyment of purposeful leadership, and the focus of helping others.
My dream job would be creating an Environmental Adventure Camp for
challenged/underprivileged kids. This camp would focus on helping
them work their way through challenges, strengthen and improve their
character and apply leadership skills so they can be successful in
their lives. The central theme of the camp would be
outdoors/environment hands-on learning experiences that foster
character growth and leadership.
I want to invest my college pursuits, summer employment and early
career choices on the path to this goal because the youth of today
are the future of tomorrow.