Name: Jacqueline Aguilar
From: Bernalillo, New Mexico
Grade: 11th grade.
School: Bernalillo High School
Votes: 0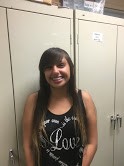 Jackie
Aguilar
P.4
Youth
Forward Scholarship
The  definition of volunteering is to freely offer to do something and by freely meaning without pay. Volunteering is emotionally satisfying. Most people believe there is no satisfaction to working with nothing in return but studies shows that most people feel better about themselves after offering their help with no financial attachment. There are many types of volunteering a person can do to not only help their community but to help their own outlook on life. Something as simple as serving for the homeless or donating blankets to the
shelter located in downtown Albuquerque can go a long way in a person's heart and life. Volunteering pays in experience and helps a person's outlook in life and helps people become thankful for what they have in life. I enjoy volunteering at my old elementary school during the summer in a kindergarten class working with the younger kids. A place that I donate all my items that are no longer valuable to me is Goodwill. Goodwill is a store where people are able to bring items such as toys, clothes, shoes, purses, jewelry, and
furniture and employees go through them making sure they are usable and display them in the store and profit them off for a cheaper price for those who are less fortunate. I also enjoyed volunteering in calling for Bingo at the turkey bingo for my community held at the
convectional center next to my church, Lady of Sorrows. Although I
got scolded for messing up a few times it was a really fun experience
to see people's reaction and got a lot of compliments because of my
personality. Where I did most of my community service was
through my church during youth group and confirmation class. Even
though I was required to collect a certain amount of hours I did not
resent helping my community. Ways we helped out was for Christmas my
church came together & made goodie bags for the elderly that
lived in a small community located in the back of our church. Seeing
their faces fill with joy was more rewarding than any amount of
money. My favorite volunteering even was participating in Stations.
Stations were a lot of work and were more of a working progress than
just donating cans for the can drive, that my Church also contributed
in. Performing Stations of the Cross was the most events I invested
my time in and the most heart filling. After our performance the crew
gathers in the front of the church and just prays. The audience has
the chance to go up and donate and or pray, while they did go up more
than the majority of the people personally thank us for not just
taking time out of our day/night by going up there but showing our
commitment and having heart while re-enacting such a spiritual and
impacting event in our religion. Being a part of this helped me
connect to my religion and helped my view on life. Although
volunteering is not rewarding in money wise it is more than rewarding
in experience.