Name: Amber Jones
From: Birmingham, Alabama
Grade: 12th
School: Clay Chalkville High School
Votes: 0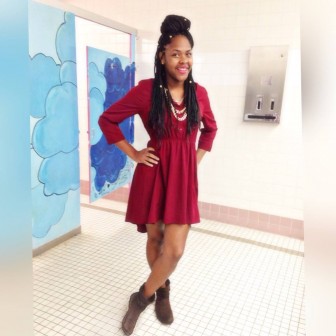 Amber
Jones
May
01, 2016
Youth
Forward – Scholarship Opportunity for Exemplary Volunteers
From
Youth to Youth
From Youth to Youth
I am proud of my community and I am proud of how
my community has shape me; would not want it in any other shape nor
form. Living in the Birmingham area, many kids do not get opportunity
to be seen by big shots or "people who matter" and that's is
pretty much where I come in. I want the youth to know that truly all
lives matter and they are important to somebody. Through programs
like Top Notch Tennis, American Red Cross, Kujenga, and after school
care at Clay Elementary School kids are the main focus. The reason
this route was chosen is because I use to be in their shoes. When I
was younger my Mom always place me in many different after school
programs while my brothers went to my Grandmother's house after
school. That made me feel alone
and unwanted which
until this day I will not allow a child to feel.
I have been volunteering for Top Notch Tennis for half a year, American Red Cross
for one year, Kujenga for three years, and after school care for one
year. At programs like Top Notch Tennis and after school care I keep
the kids motivated and self-determine. Top Notch Tennis is a program
that teaches kids that are 6 to 12 years old how to play tennis. I
help feed balls and keep the energy positive. For instance, if a
child misses or mishit the ball consistently they tend to get upset
and give up. I remind them that that is why they are out here; to
become better. I tell them each one of us that is out here helping
has been in their shoes and trust me your hitting way better than I
was. Lets go. Same for after school care. We play games in a gym as a team and if
one person on the team messes up we let them know it is okay and we
clap for them to keep them encourage. Through programs like Kujenga
and Red Cross there is specific jobs that needs to be done for the
kids. Kujenga is a Swahili based Catholic camp. Here I teach kids
younger and my age about the Lord. At American Red Cross I teach kids
how to prepare for a fire and what to pack in a pillow case.
The biggest challenge I will have to face is not being able to volunteer anymore.
Soon in a few months I will be moving on to college where I will not
be able to help as much as possible. It is heartbreaking
to know this because you do fall in love with the kids you mentor and
you have to leave however it is most satisfying to know your presence
and duty will live on. This motivates me to continue to look forward
since that is what I teach my kids. A change that should foster is do
not let the pressure of others or things determine who you are. I do
believe my volunteer work will make a difference by making the
programs better known.