Name: Bridget Stephenson
From: Escondido, CA
Grade: 11
School: Classical Academy High School
Votes: 129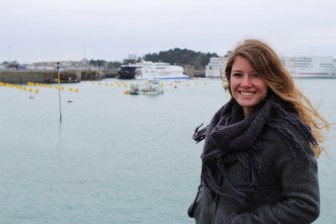 20
million people. A phrase that meant nothing to me two years ago.
As we lay in the damp grass, my eyes, filled with the reflection of
constellations, sparkled. I thought to myself, "What can be better
than this?" My friend and I marveled at our existential beings,
yet everything I once thought of myself was about to change drastically.
"What do you think your greatest accomplishment is?" my friend asked.
I thought about the question and began to answer, "Well, I think it
would have to be…."
I tried again, "It is probably…."
I tilted my head, shocked by my current inability to name my
"greatest" accomplishment. Mentally scanning through the past two years, I was
unable to produce a sufficient answer to her simple question.
12 years old. An age that would eternally capture my attention.
What is an accomplishment? According to Google
,it is something that has been achieved successfully. But who gauges
success? Is success something that promotes personal gain, or is it
an effort that betters the community? I began to compose a list of my
personal achievements, but they slowly began to fade, leaving me
unable to grasp them. In seeking my accomplishments, I questioned my
character and realized that I no longer wanted to be known for the
goals I had attained for myself. Instead, I sought recognition for
what I had accomplished for others and for how my actions have influenced my community.
A year and a half later, I can now answer that question. After that
night, I began to explore my purpose. I educated myself on social
issues and soon became acutely passionate about helping the victims of human sex
trafficking.
20 million people. I now know how many people are enslaved by the
trafficking industry.
In the months to come, my once lifeless, daily routine changed
dramatically. I attended educational meetings and
soon met with many organizations I hoped to work with. I created a
school club, and my motivation for impacting the community soared; I
had never felt more fulfilled. The joy I received from serving others
felt inexorable. My club quickly reached over 80 members, and we were
finally able to make a difference. Through fundraising efforts, we
raised over $1,300 towards dental care, therapy, and food costs for
trafficked survivors in local safe houses. A portion of our funds
went toward helping a survivor reunite with her ten-year-old son from
whom she was torn away when he was only one year old.
To raise awareness in our community, we sold more than 100 human
trafficking informative t-shirts, and our sales continue to soar. As
I became more involved in the cause, I had the opportunity to work
alongside a rehabilitation organization and make connections with
important community leaders. Through those connections, I was able to
speak at middle and high schools in order to educate them about the
issue of human trafficking. Schools now call me to come and teach
their students, informing them that trafficking is happening in their
own neighborhoods.
12 years old, the average age of a child being lured into sex
trafficking.
I now feel anxiety and pain when I speak to naïve middle schoolers,
knowing they are the prime age to be exploited through this
horrendous issue. This sense of urgency keeps me fighting to serve
the survivors of sex trafficking. I plan to continue my education
regarding this vital issue even further through college, taking every
opportunity presented to make a difference. My education will help
me to rescue, restore, and rehabilitate the survivors of human
trafficking.
20 million people is a phrase that changed my life.