Name: Shoshana Gittens Ross
From: Norwich , CT
Grade: High School Senior
School: Eastern Connecticut State University
Votes: 0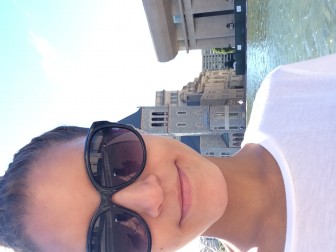 Shoshana
Gittens Ross
6-3-16
"I
alone cannot change the world, but I can cast a stone across the
waters to create many ripples. "- Mother Theresa

I have always been committed to helping others and making a difference in my community. My mother had taught me at a very young age to help others when you can in whatever way you can.

Ever since I was five years old my mother and I have made multiple visits to the Dominican Republic. Before our visits my mother and I would collect school supplies for children in the Dominican Republic. These school supplies include pencils,
erasers and reading glasses. Children in the Dominican Republic need school supplies, some families cannot afford these items and the school does not have enough supplies for each student. Acknowledging the need of these children, my mother decided to reach out and help others independently. In elementary and middle school, I raised awareness and began a collection for donations. Words cannot express the joy that filled my heart when I handed the pencils to the boys and girls in their classroom, so many smiling faces greeting me and so many voices all saying "Gracias (Thank you)". It is a wonderful feeling to know that a child no longer must write with coal but now they have the ability to write with a pencil, the ability to
see the world differently with their new glasses and the ability to erase a mistake with their new erasers. It is these experiences growing up that led me to becoming further involved in volunteering and helping my community.
For all four years of high school I have been a dedicated member of the track and field team, the Pathways to teaching club and the Morning Announcements club (media club).

In middle school, I volunteered at my local library, reading to children, and helping with arts and crafts. I also took part in many events through the Otis library such as Touch a Truck Day. I also became involved in the Empty Bowls program in my community, Empty Bowls is an organization established to help the poor by providing food for the hungry. I helped to prepare the soups served at this event and in high school I volunteered to serve guests, I also made some of the bowls sold to raise money for local soup kitchens.

I have volunteered during the summer on numerous occasions as a counselor in training at the Norwich Recreation Department day camp and the YMCA Mystic day camp. As a counselor in training I had the opportunity to work with children of all age groups and helped each child to enjoy their summer at day camp.  

In high school during my junior year, a military appreciation night was held to honor our local veterans and active military members. To demonstrate our appreciation for their service to our country, students such as myself volunteered to help
carry out an American flag the size of our football field to display for our veterans.

I take great pleasure in helping others, I believe in volunteerism because we must help one another to strengthen our communities and brighten our futures.