Name: Bobby Ward Pendergrass
From: Lindsay, Oklahoma
Grade: Junior
School: Lindsay High School
Votes: 0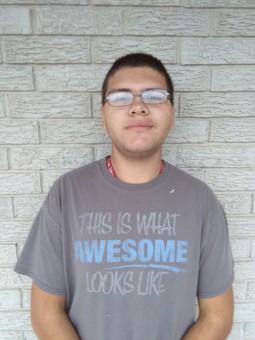 I
volunteer at a Christian after school program called Joytime, which
runs for the three thirty when the children arrive to four thirty
every Wednesday. I got started within the program during my sixth
grade year when my family joined the church which hosts the program.
After the sixth grade my only year I was eligible for the program I
became a volunteer helping where I could. During my eighth grade year
I took a break and started again during the start of my freshman year
to now in my junior year.
I
ride with the children from the school and help keep them controlled
till we arrive. Then after we arrive I help maintain the rules and
help the kids with their snack and pass out their crafts for the
day's Bible lesson. I then make sure that everyone is able to do
their craft, and answer questions that the kids may present to me.
After the majority of the kids have gone home I a variety of things
depending on how many volunteers or what needs to be done. I will
either sanitize tables and put them and the chairs away, takeout the
trash, sweep the floor, or put up sound equipment.
My
biggest challenge with volunteering is answering those tough
questions when the children ask them. I once had a child, name Gage
age 11 ask me "Does God want us to sin?" I told him no and asked
why he thought that he said "God let Eve sin. And God knows
everything so he could have stopped her." I told him that is true
he could have. Then Gage asked "Why didn't he then if he did not
want us to sin?" So I explained the concept of free will to him
that he could have stopped her but if he did so he would have to take
her free will. The free will he gave us so that we can choose to
worship him which is what he desires.

I
receive the most satisfaction from volunteering after the end of the
volunteer day after everything is done. I love to think back on what
the kids learned and occasionally how much they have grown since I
first started volunteering, an knowing I had a impact on these kids.
I also think on how much I have learned since the start of my
volunteering: like how to deal with kids that some kids just need a
firm voice, and other kids just like me when I was younger need more
time than others to mature. I hope in years when I come back in my
later years I hope some of the kids where actually listening to the
bible lessons and it helps them build spiritually.