Name: Hannah Rose Wilson
From: springfield, Ohio
Grade: 11
School: Greenon high school
Votes: 0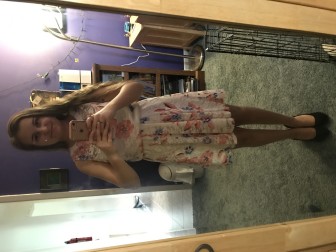 Achieving
my dreams
Have
you ever been determined to do or achieve something in your life? For
me, I am determined to become a veterinarian. I have had tough times
over the years trying to achieve this, but I am determined so I am
going to fight for it. Everyone wants to achieve something like
fulfilling their dream or a goal they have. We would not be human if
we did not hope or fight for everything that we are determined to
achieve or fulfill.
In
addition, to fulfill it we have people that we are surrounded by that
support or help along the way. For me, my parents and friends are
those people. They have helped me take the right class and have
helped me through tough times in my life where I feel like it is
falling apart. Now, I am now a senior getting ready to graduate high
school. Along with taking the right class and I have volunteered and
helped people that will help me in college, with my career, and life
in general.
Over
the years of my high school career, I have volunteered at two
different farms whenever I could. I was very busy so I helped out
when I had the time. I usually volunteered in the summer because it
was easier to work around my Marching band schedule.On the farms i
mucked stalls, brushed horses, feed and watered the horses, cattle,
and chickens, and I also exercised the horses. Along with the farms,
I have watch surgeries done by my vet whenever I had time. Usually,
it was during a break or the summer because I am in school so I was
not able to go to the vet's office. Veterinarians do their
surgeries in the morning so the animal can recover throughout the
day.
Doing
volunteering and seeing surgeries helps me visualize what my career
will be like and the different things I will be doing. I am
determined to achieve my goal of becoming a veterinarian so I with do
everything I can to fulfill it. I know I will have tough times but I
focus and determined to fulfill my dream so I will fight for it and
never give up when the going gets tough.