Name: Carol Obregon
From: Houston , Tx
Grade: 11
School: Victory Early College High School
Votes: 0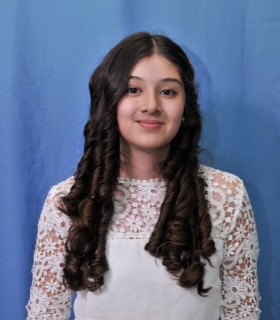 An
Act of Humanitarianism
I am a person whose beliefs are centered in God's word, the Bible, so humanitarianism
is very important in my life. Worshipping God and adhering to the
Bible principles has shaped me into a better person and has made me
more humane. It has motivated me to treat everyone with kindness and
view things from a different light. One way in which I portray
humanitarianism is by talking about God's word to everyone I can
and by participating in community service activities. The reason I
participate in community service activities is because helping
others, and giving back to the community makes me happy and makes me
feel satisfied.
I have volunteered for many community service opportunities in the academic field. One
volunteer experience in which I took a leadership role I will never
forget is the time I volunteered for the Museum of Fine Arts Houston
Bayou Bend's Summer History Camp. During the two weeks, I
volunteered at the camp, I assisted the summer camp teachers with
anything dealing with the program, helped the children with the
activities, gave instructions, and cleaned up afterwards.
I was assigned the responsibility to help the children with the activities if they
needed any help, give out instructions, clean up, and eat lunch with
them. While eating lunch with them, I shared the experiences I had
when I was their age and they were all very eager to learn more about
me. This leadership role also involved communicating well with the
summer camp teachers and running small errands for them. In several
occassions, I had to translate the activities and what the teachers
said to Spanish because one boy in the class did not understand much
English. I had a special connection with this young little boy
because he reminded me of myself when I was young since I also
struggled learning English. This little boy spent most of the time
near me in order to ask me questions about the activities and for
help. I felt that I did my job right whenever the little boy, along
with all the other children called me Ms. Carol. In total, I
volunteered 80 hours at this great camp. The two weeks I volunteered
for the history summer camp at Bayou Bend were great; I gained some
experience in the volunteering field, had a great time helping the
kids, made new friends, and enjoyed it. Most importantly , I
experienced and gave an act of humanitarianism.
Giving back to the community through the act of volunteering brings a sense of
satisfaction to my life. Whenever it is in my ability, I try to help
those around me. Helping others makes me feel useful. Volunteering
helps me gain skills and experience that are essential in life. It
helps me in the sense that it makes me feel satisfaction and joy.; It
makes me feel complete. I look forward for a future where I continue
to dedicate my time to others through volunteering and through my
career as a Nutritionist. I know that in many years from now, I will
look back and feel a sense of satisfaction and happiness because I
made an impact in the lives of others. A simple act of
humanitarianism can go a long way.