Name: Miles D Baker
From: Dublin, Ohio
Grade: 12th
School: Dublin Scioto High School
Votes: 0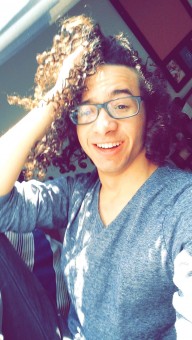 Leadership to me means, stepping up to do the right thing even when it isn't
the easiest. I've slowly learned this through many moments in my
high school life. Standing up for friends when they need you and when
you have the ability to help those who can't help themselves to do
so. My first thought while reading this prompt was my school's GSA.
It was late one Friday night when one of my best friends, Ross, called
me to inform me of the club he was going to create, a GSA, (Gay,
Straight, Alliance) Club that would later on be called simply
Alliance. Ross had explained he had made me secretary of the club. We
had been discussing the idea earlier that year. We noticed that there
really wasn't a club or a place for LGBTQ students in our high
school. The two of us being openly gay and always willing to help
others wanted the club not to just be about helping the LGBTQ
community, but the community as a whole. Our GSA was not only going
to be a little niche for students to connect regarding a safe place
for members of the LGBTQ, but a community service club. Ross and I
along side a few other members set out to create this club. The first
few weeks started out a bit rocky, with it getting approved and
finding a teacher to advise the club.
We honestly had no idea what we'd gotten ourselves into when Ross left
the principal's office that day. The day we decided to take on what
would be our biggest fundraiser. We had originally wanted to have a
simple bake sale in the lunchroom. Ross called me to ask me to come
in with him to discuss the new concept. Our simple bake sale was now
a week long fundraising extravaganza with a goal of $10,000. My jaw
dropped and my anxiety level spiked as he explained his idea. Every
club in our school was to get together to fundraise and collect
money, for the Dublin Methodist Hospital Women in Labor unit. The
operation started with huge enthusiasm and high hopes from most of
the clubs. The weeks went by figuring out how this was going to
happen, we went from an outdoor scavenger hunt, to a drive in movie,
then ultimately an indoor office Olympics. Unfortunately the dates
kept changing due to the constantly influx of other service projects
happening at the same time at our school. Slowly other cubs starting
dropping out to focus on their own fundraising. Which was perfectly
fine, because we're all hoping to help those less fortunate than
us. That being said with less students it meant the pressure was on
us. I did not want to let my friends and the hospital down. So when
it was about two weeks away Ross and I went out searching for
sponsorships. We went to restaurants, stores, and even movie theaters
and bowling alleys. Collecting over $3,000 in donations for our
fundraiser.
I'm a talker, some may say I'm chatty. My ability to talk and not be
afraid of the answers helped me lead the next portion of our
fundraising. Going door to door. It was late January and we had
started the week of fundraising. It was cold and rainy, and all of us
had gone out in groups and knocked on doors asking for donations. The
clubs made it a friendly competition to see who could raise the most.
I was deemed the speaker of the group, ringing doorbells and stating
our mission was fluent and easy to me. We trudged through the rain
and my group alone raised over $300 in one night.   
The week was coming to an end and we were down to one day before the big
event. Ross was stressed out of his mind figuring the details. It was
my time to execute the overall concepts. I saw the way it was
crushing my friend and I needed to help him. I stood up and came up
with game ideas that weren't complicated, cheap, and fun. Even
though we never made it to $10,000 we made it to about $3,000 for the
Hospital.
Even though the entire week felt like the world was falling around me,
when it was all said and done I felt so incredible to help others. I
want to become a Journalist for the same reason. I don't care about
my name on the byline, the pride, or the money (A.K.A the lack
thereof), I care that those who need a light are shone. I want to be
a journalist to tell the truth, and help others. The fundraiser and
the GSA helped me want to help lead the way to honest and helpful
news.