Name: Daniel Benitez
From: New York , New York
Grade: 2017-2018: First-Time College as a full-time student
School: New York Univeristy
Votes: 14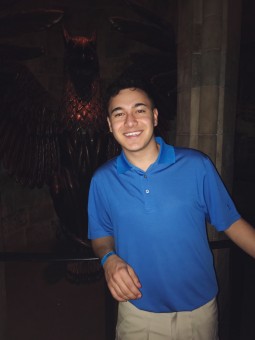 Working
with the Interact Club for several years has opened my eyes to the
needs of the community I live in. The club was created to help
special needs individuals, it wasn't just about making their lives
easier, it was about strengthening their roles in the world. The work
that was done with the interact club instilled a certain bond with
all the kids and their companions.
My
friend, asking her followers to volunteer and teach young kids how to
swim. It seemed to be something that would be worthwhile. Living in
Miami where water is everywhere, knowing how to swim is not just
important, it is essential to survival. In fact, I found that kids
between 1 and 4 who learn to swim decrease their chance of drowning
by close to 90%. "For many children with special needs, autism or
otherwise, swimming can be a very therapeutic pastime. For autistic
children water can be calming on sensory overloads, and in children
with physical disabilities the water provides a weightless
environment that is often very freeing." I contacted the head coach
of the program to volunteer my services for the summer, accumulating
115 hours over the course of 8 weeks.
That
first day was not easy. Waking up at 8 am and spending four to five
hours daily in the heat of the sun in a pool with special needs kids
was not easy. Having kids that just wanted their mom wasn't easy.
They would cry and pout their way through our activities. The same
problem arose with most parents. They weren't ready to let go and
trust someone else with the care of their child, so they hovered
around until the end of every class, every day. Eventually they
distanced themselves and through patience and understanding, they
eventually learned to trust me and they came around.
The
lessons they learned were really a bridge to teaching them something
more important: they belonged in the world. They were not outcasts.
Teaching them to swim wasn't just about teaching them to float
through life, it was about navigating through the water that they
thought could overtake them.
Teaching
the kids to kick their legs and move their arms forward, the
backstroke and the freestyle stroke were just tools to teach them
about the bigger picture. Yes, the backstroke works out the legs,
back and arms and the freestyle stroke works out the arms and chest,
but it's a lot more than that. I put them underwater so they get a
chance to get their hair wet and experience what it's like being
submerged and lose their fear. I blow air into their faces and push
them underwater and they understand they can come back up. Just like
life, they can rise above and breathe.
The kids didn't just learn how to swim, they learned so much more
than that. Honestly, I can't say they weren't the only ones to
come out of the lessons who learned. I learned as well. Years ago I
would have never believed that I could make a difference. I didn't
have the faith in me that I try to instill in my students. Thanks to
this program, it changed.
This project taught me that while there are people in this world
that are different and need special attention, we are all of value.
It has allowed me to make friends and create bonds. The best part
about this project were kids like Sophie, Mathew and Danny. Each one
of them, like me, learned the importance of believing in themselves.