Name: Hailey Mcvey
From: LONGVIEW, Texas
Grade: hmcveyscholarships@gmail.com
School: hmcveyscholarships@gmail.com
Votes: 0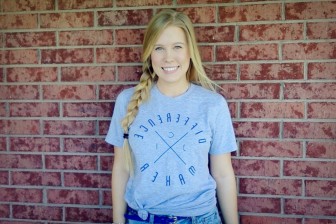 Community Service for me began as an after-school activity that I did while I
waited for my mom to finish working. She worked at an elementary
school and my middle school got out an hour before hers. Every day I
would walk to her school and work in the library until we could
finally leave and go home. Little did I know community service would
come to mean so much to me.
Eventually I found my way into the special education classrooms to volunteer.
This discovery changed my life!!! The kids in these classrooms were
such a joy to work with! My after-school community service became an
activity I did because I needed hours for National Honors Society.
However, it remained one of my favorite activities. The hours I
earned for National Honor Society community service led me to find my
passion. I want to be an influence in children with disabilities
lives. I want to become a Special Education Teacher. Without my
community service experience, I would still be trying to decide.
Since the beginning of my community service days I have volunteered in
after school programs, my church nursery, and as a leader for youth
camp. One of my church's mottos is to become a Difference Maker. At
Journey Church International I was given so many opportunities to
volunteer in service growing up. The church was in a middle school so
every Sunday the church was basically run by volunteers setting up
and tearing down EVERY Sunday. Even now, though they have their own
building, Journey Church's volunteers strive to make a difference
in people's lives. I know it has made it a difference in my life
because through serving at Journey I have developed a servant heart.
I can only hope my service makes a difference in others' lives as
well.

          I can't say that how many hours I volunteer a week is constant because my biggest struggle is time. I
usually try to volunteer at least 2-3 hours a week. In high school,
however I was required to get 36 hours a year for National Honor
Society.
My outlook on community service and volunteer work changed throughout my
life. It went from being something I had to do, to something I enjoy.
To this day, I still take time out of my busy college schedule to go
back and visit my mom's students in the special education
classroom. Looking forward, I plan to continue that. It not only
brightens the student's day but it brightens my life as well.

           I believe my volunteer activities made a difference in each individual person's
life that I have worked with. By working in the nursery at church I
helped a parent grow stronger in their relationship with Christ while
they knew their baby was being taken good care of. By working with
special education students, I gave them a friend for life. By being a
youth leader at church camp I was a role model, mentor, and listening
ear to teens who just needed someone to lead them closer to the Lord.
Although not everyone will find their career path by volunteering, I
do believe it should be part of your life. Who knows, it may change
other's lives like it did mine!