Name: Lauren Lee
From: Leesburg, VA
Grade: 11
School: Tuscarora High School
Votes: 0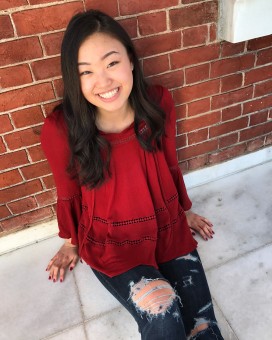 Lauren
Lee
Volunteerism
"Youth Forward" Essay
Tuscarora
High School-Grade 12
Like
clockwork, every Sunday morning I walk into my church by 8:30 ready
to serve my church community. As a Sunday School kindergarten
teacher, each Sunday holds a story for me to share with my family. I
did not intend to gain anything from serving at my church other than
the inner satisfaction and happiness volunteering in its essence
always provides for me, however the relationships I formed with the
other volunteers and especially the kids I have had the privilege of
teaching has proven otherwise. I teach them Bible stories and life
applications, and they teach me to not take life so seriously and to
cherish the little things for what simplistic beauty they hold.
Whereas outside of the church, life seems to go miles a minute,
leaving me breathless and fatigued from the pressures of school and
sports, I can always look forward to the peace and organized chaos
that await every Sunday. It seems foolish to think that five-year
olds could have any significant impact on my adult life, however
anyone who has had the opportunity to influence young kids in a
loving and genuine environment as I have would agree that the
greatest lessons often come from the most unexpected messengers.
Volunteerism
for me does not solely occur every Sunday. Every other Monday after
school for several months out of the year, I drive to my local
nursing home and rehabilitation center, Heritage Hall, and work as a
volunteer. When I first began volunteering there, the environment was
bland and eerie. The constant whirring of the respiratory machines
and the distinct odor, that of a health facility, was daunting and
made me anxious, however the conversations I started holding with the
residents from the Alzheimer's unit and the other volunteers
livened the place up. Instead of focusing on the gray bleak walls,
all I recognize are the countless drawings made with love from
grandchildren plastered on the walls and the lively personalities of
the residents contrary to their physical appearances. I find myself
at my happiest when I am volunteering there. The residents are
humorously honest and simply long for someone to keep them company,
so whether I am aiding them in playing a round of BINGO or conversing
with the elderly ladies while giving them a manicure, I find it so
humbling and I am so thankful that I had the opportunity of working
in an environment where something as trivial as a smile can make a
resident laugh and smile back. It is safe to say that serving at
Heritage Hall and my church brings me an indescribable joy that is
incomparable to any joy I could feel from worldly matters.
I find
true happiness whenever I know that I am making even the smallest
difference in someone's life. Having recognized the subliminal
influence that serving has had on me I find myself craving more,
fueling my desire to reach and impact more with the skills and
abilities I have been given.