Name: Rebecca Paige Thomas
From: Greenbrier, Tennessee
Grade: 11th (12th in 2016-2017)
School: Springfield
Votes: 0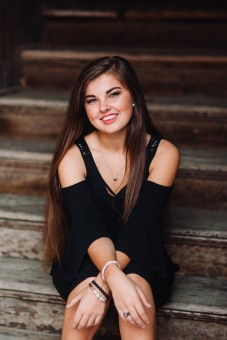 All people have different and unique qualities that can make a huge impact on
others' lives. While God was on earth he served others, and we are
to strive to be just like him. Volunteering and serving is one way to
be more like God. I have volunteered in many different areas over the
years. I volunteer at my church, a pregnancy center, food bank, and
local schools and parks ; I have gone on mission trips to Alabama,
South Carolina, Michigan, Canada and will go to Haiti nest year; I
have provided free child care to those in need, and I help organize a
charity ball at my high school every year.
The time I spend volunteering each week varies. I am able to volunteer more
during the summer time, but on average, I spend about five hours each
week in some capacity. Responsibilities have included working in the
nursery, serving during Vacation Bible School and being a camp
counselor at my church. I am a teacher's assistant during school, I
help her grade paper, clean her room, make copies, and organize work
sheets and . I have purchased items for shelters and food banks,
separated items, stocked shelves, and helped with afterschool
childcare. On mission trips, I have had many and various
responsibilities including serving at churches, working with
children, feeding the homeless, working at shelters, painting, and
did yard work and picked up trash.
The absolute biggest challenge for me in volunteering is time. I attend
school full time and have many leadership responsibilities there, and
have a job at a local restaurant as a waitress. The most satisfying
part of volunteerism is that I always go expecting to bless others
but always return being blessed by them. It is amazing how much I
have learned about people and the tremendous monetary needs that all
the places that I volunteer have in order to be able to continue to
run successfully.
The work I have done will only help me in my career choice of radiological
therapist because I have gained experience working with people who
are going through some of the hardest times in their lives and I get
to spread the gospel to them. As I look toward the future, I will
continue to volunteer as much as possible. I will also show my
children how much of a blessing serving other truly is and how
beneficial it is. We must always be "forward looking", meaning
looking for ways that will impact others not only now but in the
future as well. Through all of my activities, I look forward to
harboring a spirit of joy and hope in others. I believe that serving
others makes a difference forever in people's hearts and no matter
how long it has been people will remember the kindness and generosity
shown to them. Then hopefully in remembering the times they were
helped it starts a chain and they want to serve others.