Name: Michael Lotti
From: Tucson, Arizona
Grade: High School Graduate
School: Sahuaro High School
Votes: 0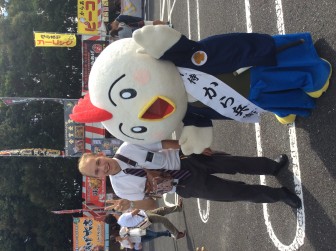 The
word "volunteer" has no direct translation in the Japanese
language. They use "Borantia" Which, if sounded out, is the same
word. Yet despite borrowing a foreign word, the Japanese are no
stranger to service and kindness. Although many cultural differences
may exist, that same spirit of Volunteerism is instilled strongly in
the heart of its people.
I served a 2 year mission to Fukuoka Japan for my church, which
involved many kinds of opportunities and duties, but first and
foremost, my duty as a full time missionary was to serve the people
of Japan. All day and all week, for two years my job was to help and
serve my fellow man. I chose originally out of a sense of duty to
Deity, but that would eventually spark a love for my "eastern
family" that would blossom into a desire to help all in need.
I
had the opportunity to do all kinds of volunteer work. Day to day,
door to door, I would offer assistance and be on the lookout for all
kinds of opportunities. My work was centered mostly on the needs of
the individual, helping them with addiction recovery, spiritual
healing, and developing self worth. But when offered, I took part in
more traditional volunteer work. This involved things such as weeding
rice paddies for an elderly man, translating on the Iwakuni Military
Base for the American Red Cross and the Japanese Red Cross to conduct
Blood Donations, and when the Kumamoto Earthquake hit last year, I
went to help clear debris and repair homes that were ravaged by
natural disaster.
It
was not all service. Learning and laughter joined in. I've always
loved the…everything, and my desire to develop software has led to
many opportunities to come back for schooling in Japan. Looking back,
it was a wonderful experience that laid the groundwork for…my
future. Looking forward, I intend to do business and study in Japan,
and strengthen the ties I have to the nation, hoping to continue to
serve the country that gave me so much. Forward looking, to me, is
having a destination, knowing the journey alter expectations, and
loving every second of it. I hope others can see that love has no
borders, and that those barriers can be overcome.
I
love the nation of Japan. Did I make a difference? I've been told
so. But I believe the biggest difference I made was in my own heart.
Knowing that I could at least help one person, knowing that one soul
had a smile due to my efforts, was worth all the trials and hardships
I had the honor of challenging. The biggest one, definitely learning
the language. A complex and often difficult culture gave me a steep
learning curve in the first year of service, but it was a mountain
worth climbing. It gave me deep insight into how alike we are all.
How we are all bound by unseen ties.