Name: Angelica Lopez Angeles
From: Wilmington, CA
Grade: 11
School: Banning Academies of Creative and Innovative Sciences
Votes: 0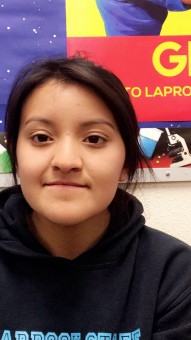 My career goals include becoming a
mathematician or engineer . Many fruitful experiences have influenced
these career goals. For example attending a school that focused on
engineering. Banning Academies of Creative and Innovative Sciences
(BACIS) offered classes like Intro to Engineering and Computer
Science. In these eye-opening, intriguing classes I learned how
underrepresented women are in STEM (science, technology, engineering,
and math) fields. Not to mention the extremely low percentage of
women of color in STEM careers.
Furthermore, my hometown of Wilmington has a
mainly hispanic population. I realized the majority of girls had
little knowledge of the exciting careers in STEM. In my senior year
of high school, I joined Girls' Build L.A. to encourage girls to
pursue STEM careers. GBLA is a yearlong project where a school's
team of ten girls formulate a plan around three different subject
areas. My team chose STEM education; throughout the year, we
conducted a couple of Maker Nights, completing fun science and
engineering activities with local elementary schoolgirls. We spent
two hours every week, since October 2016, discussing and planning how
to execute events.
At the beginning of each event we asked the
girls to complete a small survey showing how much they knew about
STEM and what toys influenced their interests. Many of the girls knew
nothing about STEM and played with various toys including dolls,
balls, and playdough. We then guided them in making lava lamps,
popsicle stick catapults and cars, and powering LED buttons. My job
during the Maker Nights was to host and guide the girls who wanted to
complete the LED button project. During the project I taught the
girls about electricity basics and how circuits worked. I was also
responsible for being Chief Writer editing our website and the
surveys. Towards the end, the girls took another survey to show their
new knowledge of STEM and their level of interest in these subjects.
All the girls could recite the meaning of the acronym; they all lit
up during the engineering activities. Witnessing the elated reactions
of the youngsters as they built and experimented, brought me
satisfaction as a volunteer. Our biggest challenge was getting the
word out, and promoting our Maker Nights to our local schools. As a
result, few people came to our events. However, seeing the impact we
had on those kids, meant the world to us. If
we were able to impact the lives of these children, we can reach
other kids in our community. I
hope they spread their new knowledge and excitement of STEM with
other girls. As our GBLA website states: "We
are Banning Academies of Creative and Innovative Sciences. Our
mission is to encourage young girls to want to be future leaders in
STEM by hosting Family Maker Nights to introduce them/show them how
fun and rewarding STEM can be". We have made a difference, however
small, and in the future I see many women choosing STEM paths. Women
who may come from my small city of Wilmington.