Name: Aisha Jones
From: Bolingbrook , Illinois
Grade: 10
School: Plainfield East High School
Votes: 1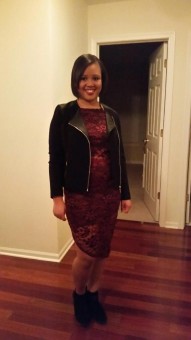 Aisha Jones
Grade: 11th
(12th in 2017-2018)
School:
Plainfield East High School
From: Bolingbrook
IL
Volunteering is
one of the most important contributions that an individual can give
to the world. Volunteering doesn't have any age, race or gender
restrictions; anybody can volunteer. All that is required is that
you are inspired to help someone in need. Age shouldn't be the
reason for someone not to lend a helping hand; big or small we can
all make impacts on many individuals lives. I have been impacted by
others who have volunteered, and I have impacted the lives of others
so much throughout my life. It is part of my make-up.
My time
volunteering varies. I volunteer year around; however, majority of my
volunteering is done during the weekend, over school breaks and
during the summer. During those times, I average about 6+ hours a
week. Whether it's volunteering for church, at my mom's
elementary school, with my family or with my mentoring program; my
volunteer opportunities are plentiful. I have volunteered at local
food banks, where I stock shelves or help prepare the food for those
in need. My friends and I began a tutoring program for K-5th
grade students. We provide free tutoring services and homework help
to children at my local library every Saturday for four hours. I
have also started my own program called 'thirteen blessings'
where I package bags with different personal sized toiletries
collected from hotel stays or donated from my friends and family; and
other goods or treats for the homeless. I give these bags to family
and friends to keep in their cars so that they can distribute them to
homeless individuals around the Chicago area.

A volunteer opportunity that is dear to my heart is one in which I am
now a counselor. This is a camp for cancer patients and their
siblings. This week-long camp provides cancer survivors a week with
fun filled activities that include renting out a whole water park to
swim, a carnival where our local fire department comes to hose us
down when it's too hot and many more fun activities. I was a
cancer survivor camper in this camp until the 8th grade.
Once I aged out of the camp I wanted to give back to a camp that
impacted my life so much.
My biggest
challenge for volunteering is time management. I have so many ways
that I want to help, but time gets the best of me. I am a full-time
student with many leadership responsibilities. I also babysit and I
participate in sorority mentoring programs.
My favorite part
of volunteering is seeing the smile on others faces and being able to
bless others. I have learned so much by just lending a hand. I've
learned responsibilities, caring for others and love. As a future
educator for kids with disabilities; in the future, I want to teach
kids that no matter how small you are, anybody can make a significant
impact on someone's life.