Name: Rose Meima
From: Bethesda, Maryland
Grade: 11
School: Connelly School of the Holy Child
Votes: 0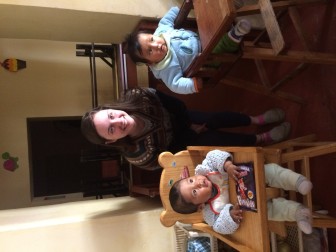 As a volunteer
serving my community and other communities around me throughout my
life, I have gained many valuable experiences, but my most profound
experience I had was through the Juana de Aza home for young mothers
and their children in Cusco, Peru. The goal of the home is to teach
the moms good skills to be able to support themselves and raise their
children. For four weeks the in the summer of 2016, I
rode the public bus through the crowded streets of the mountain town
to the small home on a back street in Cusco. Everyday I was greeted
by happy children and grateful young mothers, the youngest being
thirteen. It was my duty to entertain and take care of the kids,
ranging from ages zero to three, while their mothers went to school
in order to continue their education or worked as hotel maids to
learn how to provide for their children. Most commonly, I changed
diapers, bathed, walked, and put the kids to bed. While completing my
duties, I was continually amazed to see how content and joyful these
Peruvians were with how little they had.
My most challenging
aspect while volunteering in Peru was communication with mothers,
children, and caretakers at the home for young mothers. Their native
Spanish tongue forced me to work on my primitive Spanish skills in
order to make conversation with and understand the needs of those in
the home. The few mothers who only spoke the native tongue to Peru,
Quechua, particularly challenged me. Although I could notice some
similarities between Quechua and Spanish, I struggled to talk with
them. However, this challenge turned into my greatest satisfaction
as a volunteer.

By the time my four weeks in Peru had come to an end, I was confident
in my ability to talk with the natives in the home and I was thrilled
to be able to understand the mothers when they told me about their
lives. I learned where they came from, about their babies, and about
their aspirations for life in the future. This
experience really opened my eyes to how joy can really guide one's
life. Despite their pasts and uncertain futures, all of the mothers
and their children were filled with happiness. It was amazing such
joy I could feel just by being in their presence.
In the future, I am
interested in continuing my volunteer work with children. My career
plans consist of becoming a residential real estate agent with a
specialty in historic homes. Although my career does not directly
link to service, I plan to learn in college the skills necessary to
create a social entrepreneurship when building my own agency. I
would love to get the success I need to give a portion of my profits
to organizations like Casa Juana de Aza, who are committed to the
success of young individuals in our ever-changing society.