Name: Nwanneka Okolo
From: New Rochelle, New York
Grade: 11
School: The Ursuline School
Votes: 0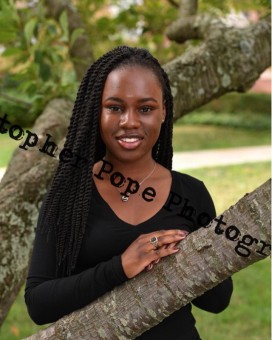 I
find my work as a catechist's assistant uplifting. I
am an aid for the teachers and students in my church's religious
education program. I help the third graders adjust to life after
their first communion. This, in turn, begins their preparation to
receive the sacrament of confirmation. Sometimes,
however, I am more than just an educational aid for the students; I
am an emotional aid.
Through the program, I form bonds with the children and help them
mature in a way they do not get simply by attending school. I
remember my own time in the program, so I know it is important for
these children to have guidance. For these past two years, I have
interacted with these children every Sunday for three very enriching
hours.

I
remember in the beginning of the school year, one boy always would
cry. John could not bear the thought of leaving his mother. I often
sat with him for those first weeks, reassuring him that there was
nothing to be afraid of. I hugged him and stopped his tears, all
while we formed a bond. I often think about these moments when
reflecting on my volunteer work. The children think of me as an
adult. When I first began the program, I was shocked by the fact that
I was working with children who were half my age. It was overwhelming
when they looked to me for guidance and even harder adjusting into
this leadership role. Currently, however, I fully embrace it. When
they say to me, "Nneka, you're so old," I hear, "Nneka, set a
good example for us." My actions, thoughts, and words all influence
them to an extent. Everything that I do must demonstrate how to be a
good citizen. That is why I am deliberate in how I act around them.
As someone who never had a younger sibling or cousin, I quickly
learned how to be that good example. I now embrace that they look at
me as a role model.
I
act in this way because many of the children in the classroom come
from underrepresented groups. As a daughter of immigrants, I know how
tempting it may be to follow the wrong path. As I have grown, I have
also come to realize how important it is to break the stereotypes
that I am placed under. That is why I instill in them at their young
age the mindset that education is power, and power can change the
world for the better. My work is important because these kids need
proper guidance so that they can make good decisions for themselves
later in their lives. My goal is to make sure they become smarter and
more excited about learning, reading, and public speaking. I
know that when I see them ten, twenty, or even thirty years from now,
they will have become leaders, ready to take on the world. My
activities are always looking forward. Though still a youth myself, I
know that the youth is the future. The younger you start children on
the right path, the better their chance at making a difference in the
world – even making their own mark in the world.