Name: Brey Genenbacher
From: Camp Point, IL
Grade: Senior
School: Camp Point Central High School
Votes: 0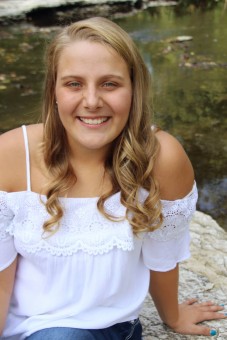 Catholic Heart Workcamp (CHWC). What is it? CHWC is various mission
trips through the Catholic Church. By doing CHWC you can go all over
the world, and even country, to volunteer in different communities
that need help. My local church has a youth group that allows us to
participate in CHWC. My friends are the ones that originally told me
to get involved in it. I am only in my second year of going on CHWC,
but I loved every minute of it, and I am going again this year.
            For Catholic Heart, we go somewhere for an entire week. The place that all the
campers stay at are schools. So for one whole week in the summer, I
will stay at a school in a town that I have never been to. When we
wake up in the morning, we go to morning mass. Then for 6 hours a
day, different groups of campers go to different camp sites. Some of
the activates that we have to do are: painting, working at a day
care, building various items, cleaning up houses, sorting food at a
food pantry, and many other activities they need us to do. When we
are done for the day, we go back to the school we stay at, shower,
and then participate in the night program. Each program night is
different. Some programs are church based, and some programs have
mini competitions that the campers get to participate in. We are
always busy when we are there, and there is not much downtime.
            In order to go on CHWC, the campers all must pay a fee of around $400. Through our
church, we have to raise about $600 per person so we can pay for our
charter bus fees and food we need to buy along the way. $600 a person
may seem like a lot of money, but we have plenty of fundraisers. The
main fundraiser we have is fish frys on Fridays during lent. For six
weeks, we campers (around 60 people) have to work a two hour time
shift at the fish fry. The other big fundraiser we have is selling
homemade noodles, cinnamon rolls, and dinner rolls for Easter and
Thanksgiving. With the accumulated orders from all the campers, we
have between 300-600 orders of each food item. As one could imagine,
that would take a lot of time to make all of that food. But when we
all come together, it goes by fast and we all have fun together.
           There are many challenges that come along the way. Different people experience
different challenges. One of my biggest challenges is meeting new
people, and learning to get out of my comfort zone. When we go to
CHWC, there are usually 300 other campers there, and we are put into
different groups from students from all across the nation. As a
result, I have to work with 10 other students that I have never seen
before for a whole week. By the end of the week, it's no problem
talking to them because I was with them for a whole week. It is also
really neat learning about each person's background, different
customs they have where they're from, and just different
characteristics they have.
            The most rewarding thing about volunteering for CHWC is seeing the impact I
made on the people we were helping. The communities that we volunteer
in are in extreme poverty levels, and could never afford to hire
someone to do what we do. Some of the people we help have also never
received the kind of help we give them, and they are so grateful.
Seeing the look on their face as we do what they want made me feel so
good about myself because I know that I helped make a difference in
their lives.
            The main thing that I learned was to never judge someone based on their looks, or
the surroundings around them. When I first go to my worksite, I was
in complete shock because of the looks of their school we were
helping. To be honest, when one of the teachers that was supervising
us was walking up to us, I thought, "Boy does she not look very
friendly." The first thing she said was, "I am so grateful you
guys are here to help us, and we will enjoy having you around." I
knew then, that she obviously was pretty friendly. As the week went
on, I learned that she was 80 years old, and she had foster kids. She
was one of the nicest people I have ever met, and at first I had
thought she was not friendly at all.

By her telling us about her fostering babies, I realized how awesome
it would be to adopt some babies/kids someday. It's crazy to think
about all the children that are unwanted in the world when there are
many people who cannot have kids themselves. If I could save one kid
and give them a family they wouldn't originally have, I will feel
accomplished because although it may be a small difference, it is
still a difference.
https://www.tun.com/blog/youth-forward-scholarship/
https://www.tun.com/blog/scholarships-with-may-deadlines/amp/