Name: Tamia Chatmon
From: Omaha, Nebraska
Grade: Junior
School: Burke High School
Votes: 0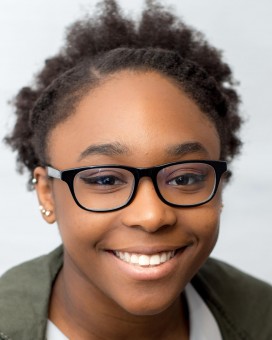 How
to Change a life
4
years ago when I started high school the one thing I learned really
fast was that I needed to volunteer. In order to join certain clubs,
get scholarships, and just look like a better person in general, I
needed volunteer hours. The thing was, I didn't think I could do
it. That's not to say that I didn't want to volunteer or I
didn't like helping others, I just couldn't see how it was possible
for me, as just one person, to really have an effect on someone's
life through volunteer work. That changed the summer before my
sophomore year however, when I begin volunteering with my school's
Upward Bound program.
In
truth we did a lot of odd volunteering jobs and none of them never
seemed to connect. One day we volunteered cleaning up a barn at a
farm and the next we helped play with grieving children at a grief
counseling center. We worked at about two places per week staying at
each for about 3 hours. Over time I came to realize that even though
I was only volunteering for a few hours a week I was really enjoying
myself. I was helping others, even if it was only in a small way, and
I felt good about it.
I
have been able to volunteer for the last 4 years through my Upward
Bound program and it has been such an incredible experience. I know
that I'm not changing the entire world, but all good things have to
start somewhere. I am honored to be able to help change people's
lives, and I will continue to do it for as long as I can. Right now I
am doing a lot of jobs that I don't really have a choice in
choosing, but after I graduate college I plan to start my own program
to help others.
One
of the areas I feel very passionate about helping in is education.
With college right around the college there has been one thing that
has stuck out to me more than anything. It is that some people are
going to be unable to go to college even if they really wanted to,
all because they can't afford the cost. When I graduate I will use my
spare money to start a center in my community for tutoring and
mentoring young high school kids. And eventually, when they
become seniors, I will help them to cover the cost of college by
starting a scholarship fund for them.
When
I look back on this moment in the future I know I'll be proud of
myself. The truth is right now the task seems a little bit daunting
and impossible, but I know that's not the truth. I am forward
looking, and that doesn't mean that I'm ignoring how I am going to
accomplish my goals for now and then going to worry about them later.
It means that I'm focused on the idea that I can do something and
working towards it now instead of simply dismissing the idea because
it seems hard.

There's
so many kids missing out a chance to follow their dreams of going to
college because they can't afford it and I want to change that. I'm
going to start small by handing out small scholarships to help lower
a few of those numbers, but in the future I aim to keep growing the
number of kids I can help send to school. I now know I can help
change someone's life, even if only in a small way. And I wouldn't
have been able to learn that without volunteering.