Name: Alexis Labrinos
From: La Canada , CA
Grade: 12
School: La Canada High School
Votes: 0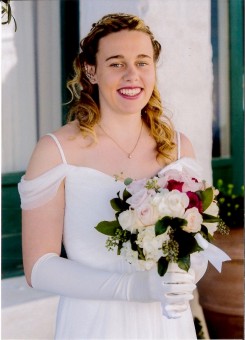 I
have always loved to serve the community ever since I started middle
school. I would help at community events such as the Palm Crest
Elementary School Spring Majig, the La Canada Elementary School
Halloween Haunt, and the local preschool's Country Round-up.
Because I loved volunteering so much, my mother found a
mother-daughter community service group called National Charity
League (NCL). In this group, mothers and daughters collaborate to
help the community to promote positive social change. We signed up in
7th grade, and I have participated in it ever since. I have worked
over 270 hours with this organization. My main focus in the
organization was the elderly and children because I believe these are
the two groups who always need someone who passionately cares for
them and wants to help make their lives better. One of my favorite
activities was making dinner at Door Of Hope, a safe-haven for abused
mothers and children. The afternoon was devoted to helping the
mothers and children carve pumpkins for Halloween. One child couldn't
gut the pumpkin, so I helped him for the next hour, teaching him how
to clean the inside of a pumpkin. It was spotless by the time we
finished, and he said thank you to me.
I
have also worked with two retirement homes, bringing games and
activities to Elms Convalescent Hospital, and reading to and hosting
barbeques for the people living at Twelve Oaks Senior Living. Not
only am I in NCL, but I was also in Girl Scouts of Greater Los
Angeles for eight years. For my silver award, I recycled water
bottles and used the money to buy soccer equipment for the YWCA and
taught the kids how to play. My love for helping the community has
also extended to my high school activities. I am part of the Be the
Change club, which feeds the homeless; Heal the Bay club, which
cleans beaches; and Trail Builders club, which builds and cleans
local trails. The hardest challenge I have ever faced as a volunteer
was in the Trail Builder's club, while cleaning up a trail in the
Angeles Crest National Forest region we came across so much trash and
over grown vegetation in the area. Only a handful of volunteers
showed up for this event and it made it super hard to be able to
heavy lift and clear away all of the material while keeping the
atmosphere light. At the end of the day getting that trail cleaned
and in shape again made me proud that I can have an impact either as
big or as small on the community. Although these activities are all
different, they are united by a common goal: to enrich and make
connections between all members of the community. It is my hope that
as a volunteer I am able to make this happen.