Name: Katrina Collins
From: Woodhaven, MI
Grade: 12
School: Woodhaven
Votes: 0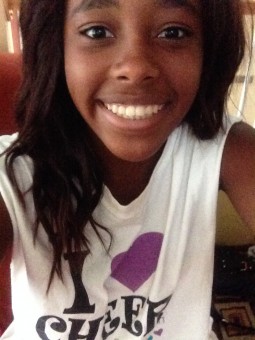 There are many
facets that someone can volunteer. My choice was to volunteer as a
cheer coach for two years. My services began as the person
responsible for building a team of girls ages 5-7. This did not only
entail teaching them how to cheer and perform stunts, but it would
mean that every word, deed and action that came from me would impact
their lives. I would go to school, cheer practice, then leave my
practice to go to develop a team of young girls who had never cheered
before.
Daily, from 5:30
to 7:30, I would attempt to foster into action some very curious or
the lack thereof little ladies who unique personalities & habits.
They would learn to perform motions, do splits, speak with volume
and confidence, but more than anything they would learn how to work
as a team! This was challenging at times.
My biggest
challenge was getting them all to pay attention. They would often
want to sit down on hot days or cold autumn evenings. Their
attention span was short as they focused on the playscapes that
outlined the surface of the playground. It would take a miracle for
me to bring together 12 girls and let them know how powerful they
were as unit, a team, a warrior. After a short time of encouraging
them to believe in what lies within them, that the challenge was
real, that they could defy all odds, I began to see them grow and
come together. Their motions were cleaner, they changed formations,
while learning to work together and trust one another.
Though I had also
volunteered at hair loss for kids and the animal shelter, as well, to
see the change in these girls was not just rewarding to them it was
rewarding to me. It had not only changed them, they had changed me.
They taught me to command respect, give respect, to watch the results
of respect. They taught me that it is not always about me but we.
Although I knew as a cheerleader myself that these were great
qualities, it became clear that they were transferrable qualities.
That team building was a gift that you could share with the world.
There is nothing more satisfying than that!
As I am nearing
the end of my journey in high school, look forward to a world that
presents an opportunity to build a nation of optimist who together
can improve upon any situation. I have seen through the eyes of
little girls what positive role models can do to improve their lives.
At the same token, I have seen what a negative demeanor can also do.
As those girls still run up to me today with excitement in their
eyes, I know that I made a positive impact on their future. My hope
is that 10 to 20 years from now that this transfer of power, pride
and determination is still being handed down from one cheerleader to
another, we are "Warriors Forever!"