Name: Sarah Nicole Richardson
From: Live Oak, TX
Grade: 10
School: Judson Early College Academy
Votes: 0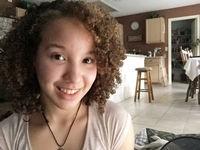 Changing
Museums by Volunteering
By
Sarah Richardson
I have chosen to volunteer in a non-profit museum. I chose it because
it aligns with my career. I have volunteered 4 hours per month during
the school year and 8 hours per week in the summer. As a volunteer, I
am responsible for guided and self-guided tours of the museum.
Previously, I have assisted the museum curator by archiving research
and cleaning the collections. I helped raise funds for the museum by
sorting through and assembling hundreds of donation letters written
to prominent leaders in my community. One summer I photographed
select, priceless pieces of the museum collection to create a phone
application to increase publicity for the museum.
My biggest challenge as a volunteer is overcoming the limitations of my
age. I began volunteering at the Villa Finale Museum and Gardens when
I was 14. Even after three years and as a 17 year old, I am still not
taken as seriously as the other, older volunteers. I overcome this by
working as hard as I can on the tasks that are assigned to me. Even
if I am shredding outdated documents or handing out pamphlets to the
guests, I make sure to do so to the best of my ability. From my
volunteer position, I have learned to get out of my shell. Before I
started volunteering, it was difficult for me to talk to strangers.
However, now that I meet new people almost every time I volunteer
there, I have become more outgoing. I have also been exposed to the
challenges that a non-profit organization faces-such as lack of
finances, publicity, and employment.
Despite these challenges, I have learned that I want to pursue a career in
non-profit organizations. I see my activities as forward looking
because I am learning about the future environment that I want to
work in. That is the reason I pursued a volunteer opportunity with
the museum as a high school freshman. "Forward looking" means
examining what options are out there to help you in the future. It
also means choosing to pursue those ambitious options.
Through my volunteer activities, I hope to change the way that the museum
world views teenagers like me. I want to show how hardworking people,
regardless of age, can achieve anything. The other two teen
volunteers at the museum agree that looking for volunteer
opportunities in the museum or history field is hard when you are
young and does not offer many opportunities for kids to sneak a peek
at what they want to pursue in life. If I were to come back in ten,
twenty, or thirty years, I think my volunteer activities would have
made a difference. After I demonstrated my work ethic, the museum was
more open to having young volunteers. I can only hope that once I
leave, this mentality will continue as more and more young volunteers
prove themselves.