Name: Adrian Landstrom
From: Houston, TX
Grade: 12
School: Clear Lake High School
Votes: 63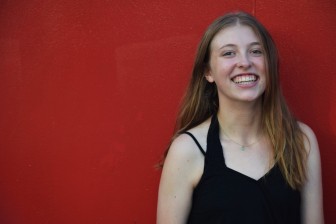 Cheering
for Children's Future
Investing in our children and encouraging them to reach their full potential is
one of our most vital responsibilities as they are the key to a
prosperous future. For this reason, the majority of my volunteer
efforts focus on helping children, like leading elementary students
in praise and worship at my church and assisting classes at a
preschool. However, the most impactful service I have participated in
is coaching youth cheerleading.
In September of 2014, I approached the owner of Texas Rockstars Cheer
about volunteer coaching Little Stars, the gym's show team. Since
then, I have coached Little Stars for three years at weekly one hour
practices and five local weekend competitions. What started as basic
volunteer work became one of the most rewarding experiences of high
school for me. As a coach, I help run practices, choreograph
routines, and teach basic tumbling, stunt, and jump skills to the
fifteen three to five year old children. Trying to juggle AP classes,
a part-time job, family and social commitments, and Little Star's
practice has always been challenging, but worthwhile. Soon, I looked
forward to show team's practice as much, if not more, than my own.
The girl's unwavering joy and constant laughter are contagious and
remind me to relish in the simple things of life. Giving back to the
community by sharing my passion and knowledge with the younger
generation is immensely satisfying.
Cheerleading is not the only thing I teach them; they learn the importance of
physical activity, respect, teamwork, discipline, and social skills.
Through positive reinforcement and the perfection of new skills,
their self-esteem continually rises. Throughout the season, I have
the opportunity to witness their constant growth as both cheerleaders
and people. For example, one girl, Aubrey, cried in the back the
entire first month when her mom left. However, by the end of the
season, Aubrey walked in smiling, joking around with the other girls
on the team, and even begging her mom to let her stay at practice
longer. If I can make a positive impact on just one Little Star's
life, then I have succeeded and for that, not test scores or winning
a cheer competition, I feel a genuine sense of accomplishment. Each
girl on Little Stars has limitless potential and will accomplish
great things with her life. I sincerely believe that the lessons
acquired from cheerleading, or any youth sport, is forward looking;
they are not only beneficial to one's childhood development, but
also to one's future as they increase long-term health, confidence,
and leadership skills applicable to any aspect of life.

Coaching Little Stars has attested to a vital section of myself– my love for
community service, especially, with children. This discovery has
inspired me to pursue a career in pediatric medicine as it connects
my passion for community service with children and my curiosity about
life sciences. A career in pediatric medicine will give me the
amazing opportunity to continue serving my community by helping the
youth achieve their full potential.