Name: Breanna Raulston
From: Junction City, Kansas
Grade: 10th
School: Junction City High School
Votes: 0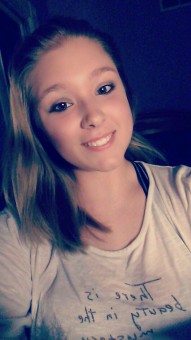 Breanna
Raulston
Youth
Forward
09/01/17
The
Children of JC
There
are many children in JC who do not have anything to do during the
summer, and the summers in Kansas can be quite brutal. Many of these
kids came to the public library to hang out in the air conditioning
and participate in the many activities that the library provides. I
had the opportunity to work with these children and their parents to
ensure that the children had amazing summers full of fun. During this
time I got to help young children with arts and crafts, find books
they were going to love, and help them sign up for summer reading
programs. I put in many hours a week, anywhere between fifteen and
twenty, my volunteering became a part time job, but the reward was
the smiles that grew on the children's faces as they left the
library, project or book in hand.
While
this line of work seemed to be an easy one, there was challenges that
came along with working with these children. One of them being that
there are many children that were uncertain of whether they should
trust this new person or not, but I quickly learned that making
myself shorter and making funny faces would allow the child to warm
up to me pretty quick.
With
my volunteering at the library, I learned how to deal with children
and their parents, which then allowed me to understand that working
with children is exactly what I wanted to do with my life. Overall
this experience gave me the confidence to talk to complete strangers,
work with children, and helped me to figure out what I wanted to do
with the rest of my life, and I think that is the point of
volunteering, to find yourself in the way of helping others.