Name: Haley Dorn
From: Woodville, TX
Grade: 12th
School: Woodville High School
Votes: 0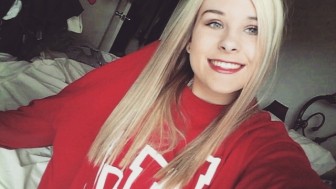 This
summer I began doing volunteer work for nursing homes in Woodville
and cities surrounding Woodville. My mother markets for a home
health company and decided to bring me to work with her one day, I
talked to some people that were working that day and they needed some
volunteer work done. The next week I volunteered at a nursing home
called Dogwood Trails Manor. I am not sure on the hours but I worked
from sun rise to sun set. I was there 5 days out of the week. As a
volunteer I was responsible for cleaning up after myself and not to
harm any residents. While I was there I worked in the Alzheimer's
unit. I painted the outside fences so the residents would have
something new to look at every day when they went outside. On the
side of the fence I painted last I convinced the residents to paint
the palm of their hand and put their hand prints on the fence, after
the paint dried I put each of their names on their hand print. My
biggest challenge I have faced with volunteering at nursing homes is
getting attached to the residents. Once you volunteer somewhere for
a while you get to know people, you learn their names, you learn
about their whole life story because all they really want is someone
to talk to and pay attention to them. It's hard when you see the
residents almost every day then you come back a couple days later and
one or two have passed away. I have gotten the most satisfaction
from getting to put a smile on people's face when I do something
good. It makes me extremely happy to know that I can brighten
someone's day by just one simple act. I have learned so much. I
have learned to be patient, very patient. I have learned that one
little compliment can make someone's entire day, you may not think
so but it really can. I have learned that I can make a difference.
It has taught me to be confident in not only what I do but in myself.
Each time I volunteer it is a learning experience. My career goal
is to become a nurse practioner therefore volunteering at a nursing
home is only the beginning of my future career in nursing. I also
get my CNA license this year and our program training was done at
Woodville Health and Rehabilitation which is a nursing home in
Woodville. I figured volunteering at nursing homes could further
prepare me for what it will be like as a nurse or CNA. My definition
of forward looking is just pushing towards bigger and better things.
I see me taking the incentive to volunteer or go to college as
forward looking. I believe it takes more than just one person to
change the world, but maybe if people start to see others doing some
good they will eventually fall in line. Volunteering will always
make a difference it may not be on the news or in a magazine, but
each person you have met or volunteered for you will have always made
a difference to them and people surrounding them.