Name: Lillian Willis
From: Stockton, Ca
Grade: 11th
School: Sacramento State University
Votes: 0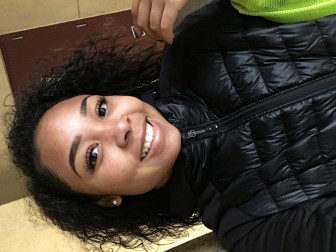 Lillian M Willis
April 13, 2017
"Club
Volleyball Volunteer"
The area in which I
have decided to volunteer is Club Volleyball. I choose to volunteer
doing this because I want to teach the younger kids how to play the
sport, watch them grow as they start to become better and better at
it, and to get more involved in doing this physical activity. I
volunteer 114 hours a year, 6 hours a week every from January- May
(when season ends) every Tuesdays and Thursdays because that is when
the kids have practice.
My
responsibilities as a volunteer would be: Help the girls get better
at passing by serving the ball to them, setting the ball to the
hitters if the setter is injured or not feeling well, and playing
against them so they can work as a team to beat my team. Volleyball
is a game that cannot be used without communication and it takes a
team to win, not just individuals!
My
biggest challenge as a volunteer would be, trying to get use to the
new group of kids i help out each year because not every kid comes
back to the same team the next year. I have to get use to them and
understand where they are coming from and how far they are into the
sport and how much i need to help them learn to get caught up. Yes I
want my team to win but I can't forget they paid the expensive club
fees for me to help them and get better at the sport and their
position.
What's
giving me the most satisfaction as a volunteer is when a kid gets so
happy when they were able to pass a hard ball that was spiked to them
or when they do things that they have never done before in a game
which could either me: getting a kill, diving for the ball &
being able to pick it up from the back corners, or simply getting
their jump serve over and getting an ace. Just the smile on their
face and the excitement of the simple skill that they had set a goal
for and them accomplishing it just puts a big smile on my face and I
couldn't be any more proud of them for achieving something that
they have put their mind to. What I've learned from this volunteer
position is that you can build a strong bond with some of the younger
kids and lead them in a good direction so they can be more successful
in life as they get older and continue their career of playing
volleyball.
Sadly
what I'm volunteering to do does not necessarily correlate to what
I want to become in the future, but yes it still involves helping
kids because I want to become a Pediatric Surgeon.
Looking
towards the future, I'm hoping that I will be able to some day
watch the kids I've helped volunteered to see them playing in
college at a higher level.
Coming
back in 10 years, yes I think I would have made a difference because
I believe I'm my kids that they will make it far in life and
continue their career of playing volleyball and one day playing pro.