Name: Gabriel Henrique da Silva Pinheiro
From: Chiang Rai, Chiang Rai
Grade: High School Senior
School: Chiang Rai International Christian School
Votes: 31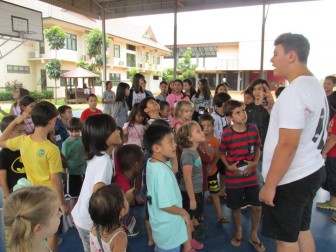 Ever since I can
remember, I recall aiding my parents in their volunteer work to help
our community. From an early age, my parents taught me the importance
of helping others in their time of need. I remember countless times
walking around downtown Belo Horizonte to distribute clothes to the
homeless during the winter, and visiting places such as orphanages
and children's hospitals to bring joy to the kids. Throughout High
School I started to get into projects on my own. Alongside other
students from my school I volunteered by pouring concrete for the
foundation of a building, teaching english to underprivileged kids
that reside in remote villages in Northern Thailand, and collecting
reed and grass to build a thatched roof at another remote village.
Participating in these projects helped me to further realize how
small actions can impact a whole community. But it was not until the
summer preceding my senior year, however, that I found a cause that
extremely impacted my worldview and questioned my understanding of
humanity.
During the summer
preceding my Senior year I came upon the realization of the
inequality and lack of love present in the world today. Stumbling
upon the sad reality of human-trafficking, my heart burned for
justice and brain sought for opportunities to stand against such an
evil practice. Last summer, I joined an organization that has the aim
to train rescuers and rescued girls in self-defense and other
tactical areas. While interning for this organization, I had the
opportunity to meet many girls whose lives have been scarred both
physically and emotionally by the evil in the world. Each of those
girls represented a story of how rejection, humiliation, and
exploitation can affect one's prospective of a future. While
working at the organization I decided that I would use my life to
help end such an evil practice.
At my high school,
all seniors are expected to complete a Senior Community Service
Project. These projects are to promote community service (all
projects must benefit the local community) and leadership skills
(senior lead teams of underclassmen to complete the projects). The
senior and his/her team of volunteers must complete 100 service hours
toward the project. The senior chooses, plans, and implements
his/her own project. After the project is complete, the senior
orally presents a formal report of the project to the school
community.
For my Senior
Project, I decided to use my passion to combat human-trafficking to
develop a project that would benefit my local community. The
intention of my senior project was to serve Wiangsa Village through a
partnership with Project Justice. Taking a holistic approach to
combat human-traffic, Project Justice runs prevention programs that
seek to better the lives of the citizens of Wiangsa. My expectative
for the project was to bless both the villagers and project justice
through running a successful prevention program and interacting with
the kids in a personal level. We played games, did crafts, learned
how to brush our teeth, and talked about our identity. I wanted to
help the kids understand that our circumstances don't define who we
are, and that regardless of the situation you are in, you can succeed
if you work hard enough.
I
had the opportunity to lead a group of 27 volunteers who helped to
ensure that the vision of the project was fulfilled. Altogether we
performed 220 hours of community service and successfully ran a
anti-human-trafficking program. Organizing my senior project only
helped me to further realize that I want to fight the evil practice
of human-trafficking and dedicate my life to empower the powerless. I
intend to attend University in the United States and attain a law
degree, to then come back to Thailand and help to prosecute those
involved with human-trafficking, and to help mountain citizens to get
the documentation they need to become Thai citizens.