Name: Emily T brott
From: Sacramento, ca
Grade: Senior
School: Roseville High School
Votes: 0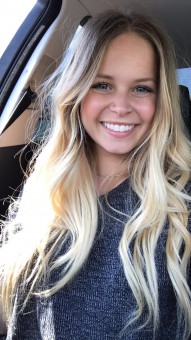 My
community has been important to me from a very young age. When my
brothers were born I dedicated my time to keeping them away from the
mental and physical abuse that I grew up with. The opportunity stood
before me at the age of 14, launching my devotion of helping all
children in my reach especially my brothers. I cared for them and
protected them as best I could at my young age, having to stand up to
a 230 lb. man I regret to call my father. The support of my mom and
stepdad had fueled me to take initiative and try to inspire Police
Officers to better their approach on abolishing online child
predators. My new enemy turned to the men and women who got to hide
behind a screen while threatening those childhoods I had vowed to
keep safe. I volunteered my time to educate officers with a
presentation at an exclusive seminar on how to pose as a minor to
further pursue the predators and limit abusive behavior on children
not only locally, but statewide. The insight of my 14 year old mind
spread throughout police departments where they practiced my habits.
My community rid of dangerous and unjust actions which excited
me to spend my free time around peers who felt the same. I therefore
joined my cities Young Life church group and dedicated multiple hours
of volunteering at camps so children continued to have a safe place
to visit throughout the year. Through this desire of protecting
innocent children I have greatly changed the initiative officers take
when protecting the community in hopes of eliminating my childhood
ordeals from becoming a trend in my neighborhoods and schools. I
truly believe from this experience, giving back to community is
crucial and preserving the lives of children is a very important
mindset we should all have. I would to spend my time to be spent
keeping those children healthy whether it is volunteering at
hospitals, foster care systems or even local day cares to spread love
in the young kid's hearts. I would also like to give back to the
community by hosting children's food and clothes drives around my
city to give the children in need better living conditions so they
too can see how kind gestures don't have to be forgotten. My fear is
to have children be taken out of a bad family situation that I too
went through, into an even worse living condition with no a scarcity
of food, or clothes. I would pair with local police stations to
spread the online activity so parents can better monitor their
children and follow my lead in keeping the children in the community
safe from adults with bad influential actions, and thoughts. I feel
very passionate about keeping children from experiencing the
nightmares I went through at a young age and therefore would devote
my time into saving their happy childhood. I truly believe if there
were not people like me who took time out of their day to help
others, the communities around us would be a cold, cruel city. Love
never fails, and spreading the love and kind gestures can go a long
way.