Name: Rocio Venegas
From: Stamford, Connecticut
Grade: 11th grade
School: Stamford High School
Votes: 0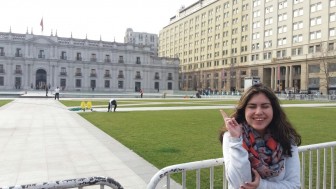 For the past
couple of years, I have focused my volunteering efforts particularly
on the youth. I have been a youth leader in my church as well as
participating in the Mayor's Youth Leadership Council (MYLC). My
responsibilities within the church have been to translate, preach
sermons, plan events, lead worship sessions etc. As for MYLC, our
goals have been to raise awareness and support for all groups of
marginalized people such as victims of sexual abuse, nail-salon
workers who are paid below minimum wage in dangerous working
conditions, children of neglectful and abusive parents etc. I have
participated mostly in street outreach, passing out fliers and
holding signs for people to read about the effects of the theme we'd
be working on. I've also gone to nail salons and gotten my nails
done with a mask to demonstrate the health violations of working with
chemicals all day with no protection. On a regular basis, I would say
I volunteered at least 2 hours per week for MYLC and 3 hours for the
youth ministry.
By far, my
biggest challenge as a volunteer has been overcoming the comments of
negative people. When you're doing something that's meant to help
and do well to society, there will always be narrow-minded, spiteful
people who will try to demean your work and tear you down. During the
street outreaches for MYLC, there would be plenty of people who would
be very vocal about disagreeing with what we stand for and telling us
that what we did would not make a difference. However, our leader
would advise us to stay silent unless we had something kind to say.
What those people don't know is that MYLC has actually gone to our
local Congressman multiple times and have gotten legislatures changed
for the topics that we defend. As for the youth ministry, getting
young people to become passionate for God is a difficult challenge.
It's hard to balance making church "fun" and making sure that
these teens really learn the word of God and what it means to follow
him. By his grace, however, it gets a bit easier each time, as the
youth become more open to accepting Christ as their savior.
As it's been
said before, the greater the challenge, the greater the reward.
Whenever I hear about a new law that's been passed regarding one of
the issues we address in MYLC, it's always a relief in my heart to
know that our efforts have made a difference in our community. Or on
a simpler note, when I do street outreach and in the midst of
negative slurs being thrown my way, it's rewarding to see a
stranger give a thumbs up or say, "Keep doing what you're doing!"
Sometimes, being reminded that there are kind, supportive people
still out there goes a long way. Throughout the years, I have also
created life-long bonds with the kids in the youth ministry, and some
have come and said that I am someone they look up to. It's amazing
how in wanting to help people while receiving nothing in return,
you're still rewarded with something greater, the feeling of
someone's life being different because you were a part of it.

I have learned how to be a leader, how to combat obstacles in order
to achieve my goals, and how important it is to help others because
of my volunteer position. I don't think any other experience
could've helped me learn so much in such a short period of time. I
believe "forward-looking" is being able to see the effects of
your actions not only in the present, but in the long-run as well. My
part in volunteering is forward-looking because the laws that have
changed are going to remain changed, permanently, and people will
always be able to look back to the time period of when people took
action to make a difference. Moreover, a role model isn't someone
who inspires you for only a day or a week, but for the rest of your
life. That is something so great, it can't be expressed in words. I
am so honored that I could be that for somebody.