Name: Jalen Shelton
From: Powder Springs, Georgia
Grade: jshel47@gmail.com
School: Hillgrove High School
Votes: 0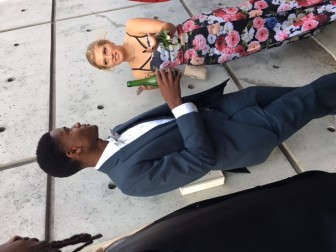 Being
unselfish and willing to help others is one of the best character
qualities an individual can have. Being of service to others is a
great thing to do. In my opinion there isn't a more noble cause. In
the last two years I have volunteered and completed over 20 service
hours. I have volunteered at many different events . I have
volunteered with pet rescue organizations, churches, health fairs,
after school programs and feeding the homeless.
Most recently I
volunteered with Still Elementary to help with their obstacle course
for the students. I helped set up one station of the obstacle course.
I also monitored the station while the kids were running through the
course. I made sure the kids had fun without running off course or
getting hurt at my station.
I also helped out
at health fairs. My Dad is a physician and he often volunteers to
speak at health fairs. When he volunteers I also volunteer. I helped
with the setup of tables and chairs. During the holiday season I have
also helped feed the homeless. When feeding the homeless i help set
up the tables, brought in chairs, and I also helped to serve people
food.I have also volunteered at Mars Hill Community Church. My job
here was to build chairs and tables. My friend Cameron and I built
several tables and butil the chairs to go with them. Theses chairs
went outside on the playground at the church. I also packed meals
with Feed My Starving Children. My job was to seal the meal bags
after they were weighed.
My most memorable
experience volunteering was with the Atlanta Lab Rescue. The Atlanta
Lab Rescue is a non-profit volunteer organization that rescues dogs
and specializes in Labrador Retrievers and Lab Mixes. Every year they
rescue over 2,000 dogs. At any time they will be sheltering anywhere
from 40-50 dogs. Every year they host a 5k race to raise money. I got
together a group of friends and we all volunteered for the Lab Rescue
5k. We were in charge of the aid station. Our responsibilities
included unloading , arranging, and serving refreshments for the
runners and their dogs. I enjoyed this experience because I love
working with animals. This opportunity gave me the most satisfaction
than any other time as a volunteer
Volunteering
has showed me that hardwork always pays.In the case of volunteering
helping other pays off by the satisfaction you feel from helping
others along with the gratitude from those you help.Volunteer work is
forward-looking. Forward Looking describes action that is focused on
the future. I believe that my volunteer work is forward looking
because it helped to enrich the lives of others and will has a
positive effect on their lives going forward. Having a positive
effect on others lives even in the smallest way is what I try to do
with my volunteering. Helping others is a great cause and can be
pursued in a multitude of ways. It will always be a very important
cause to me.