Name: Francisco Israel Hernandez
From: Ontario, California
Grade: 11th
School: Chaffey High School
Votes: 0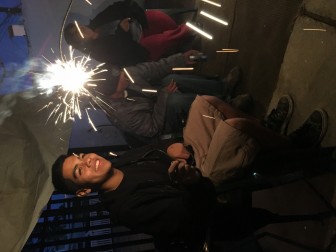 For
community service there was a good amount of knowledge that I gained
from serving my community. Because this was the third semester in
which I participate in Loaves and Fishes, I began to realize that
most people that go are people that go there everytime there is a
Loaves and Fishes to receive food. I realize that there are people
out there that depend on this service as a mean to survive. I also
learned that there are also people that regularly volunteer at not
only First
United
Methodist Churches but also at shelters. From my experience with
helping out the librarians at Chaffey I learned that at the beginning
of the year, organizing books and preparing for the year is an
extremely tedious task, so I was glad to help. From helping out the
community garden with Earth Club I learned that there are people out
there that really do want to make a difference when it comes to what
type of nutrients people are consuming. From the food fair with Swim,
I learned that cookies and brownies are a huge hit when it comes to
the food fair.
I
learned a lot from myself in this semester's amount of community
service. For starters I learned that with enough determination I can
do more hours than the ones being asked. By starting earlier in the
year and spacing out all the events that were available I was able to
do 25.5 hours. I know it's not the biggest amount of hours but for
me this was a good feat. I also learned that there are so many
community service events out there if you are willing to find them.
Based
on the fact that there are so many community service opportunities I
can confidently say that for my next semester's goals I want to
achieve at least 30 hours of community service. I want to also begin
to do different types of community service similar to how I did it
this semester. There is so much to learn when it comes to community
service as long as I change it up.