Name: Christian Camacho
From: Ontario, California
Grade: 11th
School: Chaffey High Shcool
Votes: 0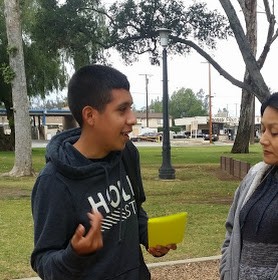 Christian
Camacho
Mar
20, 2016
Essay
#1 Leadership
Leadership is an essential for the development and functionality of any society
or organization. In order further develop that society or
organization, a leader must have a certain set of skills that include
someone who demonstrates high integrity and honesty, someone who
communicates prolifically with others, someone who builds
relationships, someone who steers others in the right direction and
someone who drives for results while also galvanizing and inspiring
others to do their best. I have had demonstrated leadership on
several occasions. I have lead or coached students from Central
Language Academy in the Science Olympiad competition, and I consider
myself as a leader of my family by demonstrating my desire to receive
a higher education so I can have a more successful future and give
back to my family considering my siblings have done the opposite by
not following through with their education and only adding more
weight to the shackles that keep my family from leading a better
life.
I have illustrated my leadership skills in numerous ways, one of them
being coaching Central Language Academy students in the Science
Olympiad competition in the Anatomy and Physiology event. As a
leader, I remained committed to my duty of coaching and teaching my
students all the complex concepts and essentials of the Anatomy and
physiology event till the end by working on power points, making
reviews, and drawing diagrams to further their comprehension even if
that meant staying up late a couple of nights. I not only made
reviews but as good educator I motivated my students, as a good
leader should to do their best and be sincerely dedicated to the
event but to have fun because it a leader should not only drive for
results. I am glad for this experience because it enabled me to
establish better communication than I had before by understanding
which teaching method they were able to comprehend better.

            Just as my cousin who had suffered from his problems in his household, I
have had my fair share but since then have displayed leadership and
continue to do so by following through with my education so I can
lead my family out of poverty and the dangerous environments my
siblings have intertwined with. I illustrate leadership by leading a
life full of integrity and honesty, that coupled with a higher
education, I am certain I will lead my family out of the ditch it has
gotten itself into. And that is where CLYLP comes in, with CLYLP I
will be one step closer to tasting the sweet leadership that will
develop me as person and a leader by further enhancing the
significance of my impact on my community, state and nation as a
future leader while teaching me more specifically on how I can make
change happen in my community.