Name: Ciara Hellewell
From: West Jordan, Utah
Grade: clogdancer99@gmail.com
School: clogdancer99@gmail.com
Votes: 0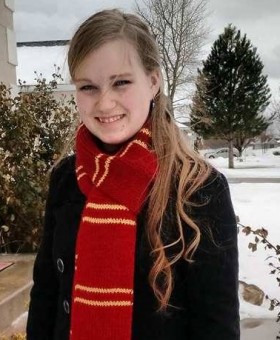 I
started helping with this class in the fall of 2015. It as a
forty-five minute class held once a week, so by the end of this
school year I will have volunteered for fifty-four hours.
There
are many things I do as an assistant in this class. It mostly comes
down to helping the kids and making sure they have fun— whether
that is explaining a step to them, physically showing/helping them to
do it, coming up with a modified way for them to do the step (one of
the students in our class can't walk, so he kneels on the floor and
needs an assistant to help him do modified moves), or just being
silly or entertaining to keep the class interesting and fun for them.
I
think the biggest challenge is putting the energy into the class.
Just before this class, I have been doing my own dance class for two
hours, and so I'm obviously pretty tired. But the assistants in the
class need to be very energetic and upbeat to help the kids have fun
and get into the dancing.
The
most satisfying part of this volunteering position came at our end of
year spring recital, when we helped our special needs students
perform their dance. It was amazing to see how happy it made the
students to put on a costume, go out onto the stage, and have a huge
crowd of people in the audience cheering them on. All the students
had huge smiles.
Through
being an assistant in this class, I have learned how to work with
people with disabilities. I have learned to overcome some of my
shyness by being really friendly and upbeat and doing whatever the
students need.
I
think this class can be described as "forward looking" because it
can change how people think of others who have disabilities. They can
see that they are able to participate in things like dance classes.
Maybe people who came to our recital will realize that their disabled
child can learn more than they think they can. I think forward
looking means hoping for something positive to happen in the future.
I hope the world's perspective can change on people with special
needs, and realize they can do things. Maybe it will inspire others
to volunteer with special needs organizations in the future.
I
hope that this class has made a difference in the student's lives.
I know that in ten or twenty years they might not even remember this
class, but I'm sure their families will. I hope they will have good
memories of the class, and be grateful that their kids were able to
take part in it.