Name: Paulina Therese Hinchey
From: Harrisburg, PA
Grade: 11th grade 2015-2016
School: Bishop McDevitt High School
Votes: 0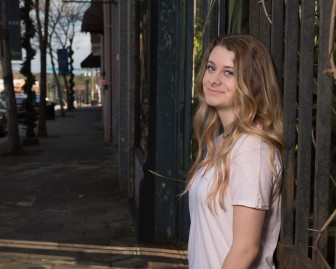 "To
whom much is given, much is expected," an old adage I heard
throughout my childhood, is one of my favorites. I have been given a
lot in my life. I live in a comfortable home, attend a private
school, and have been allowed to excel in that school academically.
It is because of these things that I feel compelled to give back and
hope to leave a positive impact behind with everyone I encounter.
My
most far-reaching service during my high school career was performed
through my school's Christian Service Club, of which I am Executive
Treasurer. As a member of the Executive Team, I helped to organize
and gather volunteers for (often volunteering myself) various events
throughout the local community. Some of the organizations benefited
included the local Friendship Center, the Manna Food Pantry, the
Central PA Food Bank, and those involved in Fort Hunter Day events.
My
Christian Service Club involvement reaches out with a long arm into
the local community, but my work with students through National Honor
Society is rooted deep in my school community. I am the Executive
Secretary of the Bishop Lawrence F. Schott Chapter of the National
Honor Society. In this position, one of my greatest responsibilities
is the running of an everyday school tutoring lab. This lab is open
to help students with all subjects and is staffed with National Honor
Society members. This year, the need has been so great that we have
had to move the location outside of a regular classroom into a larger
space.
The
volunteerism that I have participated in throughout my high school
career has planted a deep seed of passion in my heart to continue my
efforts in college and in life. One of my goals throughout college is
to continue tutoring and working in the local community around my
school, and after completion of my undergraduate education, I plan to
join the Peace Corps. Much has been given to me, and I plan to give
back for as long as I live.