Name: Hayley Terberg
From: Laguna Niguel, Ca
Grade: Freshman
School: Colorado State University
Votes: 0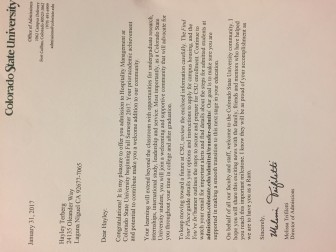 Hayley
Terberg
Youth
Forward Scholarship
Disney
VoluntEAR's
I started
volunteering in the 7th grade when I joined the National Charity
League. NCL is a non-profit organization of mothers and
daughters serving their communities together. During the 6
years, I spent in the NCL I served 2 years on the board. Each
year I put in about 30 hours of community service and monthly
meetings to discuss better ways to serve the community. NCL
offered a large range of ways to make a difference from helping in
soup kitchens, food pantry, children's
hospitals, convalescent living, military/veterans and
many more. This help me build connections in my community and
through these experiences I became socially aware how important it is
to make a contribution to society.
I think the
biggest challenge as a volunteer is making the time. In my NCL
years I was in high school and involved in the musical theater so
getting in my hours was difficult. Now
as college student who also works at Disneyland I still find it
challenging to balance my schedule and make time to serve my
community. I
am lucky enough to work for Disney who gives cast members the
opportunities to make a positive impact in their communities.
I was in
evolved in a project with Habit for Humanity. Ten special need homes
were built and decorated for military families coming back from war
paralyzed or injured severely. Being
a part of this project was life changing. The
day we cut the ribbons and watched the families tour their houses for
the first time, is
a day I will never forget. There is so much that I have learned from
volunteer work. Essentially
life skills like leadership, compassion, team work, humility and the
list goes on.
In my
future, I will be working in a service driven industry. I am getting
my business degree in Hospitably Management. I hope to continue my
career at Disney. Working for Disney means to
be a part of something very special and bringing that to every guest.
I hope to continue as a Disney VoluntEAR and become part of the
Disney Wish program. The Disney wish program grants children
with life threatening medical conditions a Disney wish come true.
In 10,20,30
years from now I believe that my contribution will have made a
difference. Every
effort counts no matter how small or insignificant it may seem. I
hope that I have influenced others to volunteer by leading by
example. I once heard that a good example has twice the value of good
advice.