Name: Noelle Christine Rohde
From: Olivet, Michigan
Grade: Junior in high school - 11th
School: Olivet High School
Votes: 0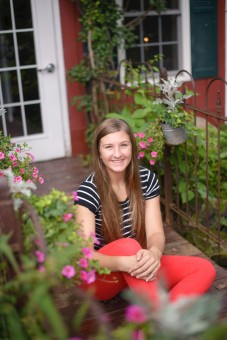 Noelle
Rohde
Youth
Forward Scholarship Essay
In
my community, I volunteer at my church as a Sunday School teacher, as
well as taking part in clothing and money drives for families in our
community. While I am always busy in my Michigan hometown, my most
influential volunteer opportunities have come from many states away.
For the past three years, I have gone on mission trips to Chicago,
Philadelphia, and Atlanta. My church youth group spends a week during
the summer at either a homeless shelter/church/community farm, and
does various jobs for those in the area. We clean, build, watch kids,
deliver furniture… anything you can think of, we've done it! This
past summer, I volunteered at a youth camp for homeless children and
refugees in Atlanta, Georgia. I created amazing relationships with
the kids throughout the week, and when it came time to leave, I knew
that it was one of the hardest things I would ever have to do.
However, knowing that the kids had an amazing week to forget about
the trials in their own young lives gave me a happiness beyond what I
could ever experience back home. Helping people out around the
country has not only taught me about the importance of sharing the
love of Jesus, but about looking outside yourself and the blessings
you have. We become very complacent as people with houses, food, and
clean clothes, and there is no better way to combat that than
spending a week with people who don't live with those commodities.
In
the future, I plan on becoming a writer and an editor, and I know
that a profession that contains communication is a great way to get
the word out about the awful things people are living through in this
country. By going on the mission trips, I would describe my plans for
relating my memories to other as nothing but "forward-looking."
This means that you plan on doing something about what you see as
wrong, and through my words I'll be able to make others realize
that everyone deserves a warm, safe place to sleep at night. I
volunteer on these mission trips to bring hope to those that don't
have any, and I hope that the things I do (especially when working
with children) will impact those I come into contact with. Sometimes
having a ray of sunshine in a dark place makes all the difference in
the world. If I ever return to Atlanta and see my kids (which I plan
on doing), I hope to see those children being active in the community
as well, happy and healthy and full of love. I hope that the impact I
left on those children won't ever leave them, and they'll see
that Jesus's love shines even through the deepest night. I
volunteer for no other reason than to make other lives better in the
humblest way possible. Everyone deserves happiness, and that can be
provided by one person making a difference.