Name: Chrystal Patrice Hughes
From: Addison, Texas
Grade: 10
School: Greenhill School
Votes: 25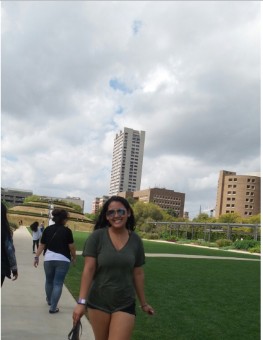 "Don't mess
with Texas". This is a slogan I've heard for as long as I can
remember. At first, I thought its significance was to boost the
already huge Texas pride, but as I've gotten older, I've realized
its true meaning. This state, this country, and this Earth are so
beautiful, and we as inhabitants must make a conscious effort to keep
it that way.
I
volunteer at For the Love of the Lake in Dallas, TX, which is an
organization committed to enhancing and preserving White Rock Lake
Park. I spend time doing this not-so-glamorous work on my weekends
because I feel preservation is one of my callings in this life. I
think taking care of our home is one of the most essential
responsibilities we all have as human beings.
I
began volunteering my sophomore year (2015), and as I have grown to
really cherish the work I do for my community, I am now a
co-president of the Ecology club at my school. Being a president of
this club, my responsibilities include educating my schoolmates about
preserving the planet, and outreaching to them about my Saturday
volunteering. I usually volunteer every other Saturday, for 4 hours
at a time. During these 4 hours, I choose a specific area of the lake
to focus on, where I pick up trash and recycle items I find in and
around the water.
Because
there are so many people who don't know the toll their litter has
on this Earth, the work is never done and there is never too much
service to give, but the most satisfying feeling I get from
volunteering is when I take a step back and physically see how much
I've helped better the world.
But
being a full time student athlete, going to an incredibly rigorous
college-preparatory school, time is not always something I have
plenty to give of. It's sometimes very difficult for me to fit
school, sports, family, and
volunteering in my schedule. But as I've matured, my time
management skills been able to make all of these priorities in my
life.
And
in making time for this very important and special activity, I've
learned that giving time for something that doesn't necessarily
benefit only you, is actually very rewarding and satisfying. When I
am done with my day of volunteerism, I love the feeling I get,
knowing I've given my time to a worthy cause, that many may benefit
from.
Seeing
as I want to be a doctor, this type of volunteerism doesn't really
play into what I want to do, but volunteering and giving back is
something I always want to do with my time. I think I've gained a
lot from learning how to humble myself and give my time and efforts
to something other and bigger than myself.
I
think the kind of work I do is "forward looking", because it
preserves the Earth for future generations, so it is can be as
beautiful for them, as it has been for us. By volunteering, I am also
encouraging others around me to give time to other causes, which in
the future could be very beneficial to many organizations and
ultimately, the world. I think through the work I do, I am able to
teach my peers about valuing our communities, which in turn will have
a great effect on our Earth.
I
hope that in the future, with more people educated and taking care of
the Earth, we will have a cleaner, healthier planet, which is here to
stay for generations and generations to come.