Name: Owen Bai
From: Berkeley, California
Grade: 12
School: UC Berkeley
Votes: 0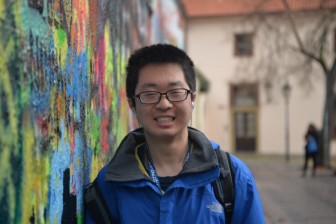 Dreams Come From Unexpected Places

It's disheartening to hear my
Canadian-Chinese friends say "China's too polluted", or
"China's too dirty", expressing their aversion to visiting
China. To them, China is just another developing country in the East.
In contrast, I attended middle school in China for eight months while
my dad was teaching on his sabbatical in Beijing. Experiencing
Chinese culture – in the sense of cuisine, television, and school –
enabled me to connect most deeply with my heritage; I savoured the
versatility of Chinese food, enjoyed productions of popular Chinese
stories, and appreciated the demanding schooling every Chinese
student goes through. When I visit China, I think about visiting a
home, and not the pollution. My strong emotional ties to my heritage
are what led me to volunteer at Chinese School for four years. I
wanted to impart my language skills to the younger generation of
Canadian-Chinese in my community so that they, unlike my friends,
have the opportunity to connect with their heritage. I taught weekly
three-hour long classes to 10 – 15 ten-year-olds, assigned and marked
assignments, and supervised my students during break. One way I kept
my students entertained was through playing "educational games",
one of which utilized Chinese flashcards. I split my students into
two teams and created a competition in which each team could
"identify", "steal", and "steal-back" flashcards.
Ultimately, these interactive games made Sunday morning Chinese
classes really fun (for both my students and myself). When I saw the
happy faces of my students learning Chinese, I was reminded of myself
when I was in China: eager to learn Chinese and proud to be
Canadian-Chinese. When my students told me, "I can't wait to
visit China this summer!", I knew that my time spent was
worthwhile.
Volunteering at Chinese school has
allowed me to create change in my community by empowering the younger
generation of Canadian-Chinese to embrace their roots and learn the
language of their heritage. In addition, volunteering at Chinese
school has empowered me to be involved in education for the rest of
my life, and most importantly, helped me find my dream.
As
a current exchange student living in Turin, I've
discovered that the fees associated with attending university in
Italy (tuition, living costs, etc.) are five to ten times cheaper
than fees associated with attending university in the United States,
United Kingdom, and Australia – the three most popular study abroad
destinations for Chinese students. The implications are significant;
many Chinese students who cannot afford to study abroad in the
English speaking countries and who do not want to suffer the
cutthroat education system in China are financially able to study
university in Italy. The problem is that there is little awareness in
China about studying in Italy, and once that awareness is
established, not many resources to make it a reality. That's why my
dream is to create a
non-profit organization that promotes to and facilitates low-income
high school students in China to experience post-secondary education
in Italy.