Name: Sarah Sasaki
From: Cerritos, CA
Grade: 11
School: Gretchen Whitney High School
Votes: 0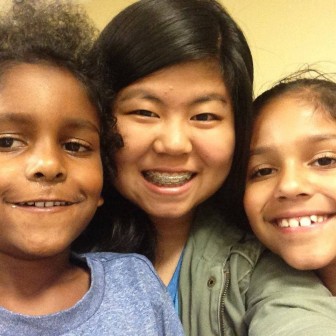 As someone who's always been so passionate about working with
students of all ages and backgrounds, I knew that my future
profession would have to correspond directly to my love of serving as
a mentor to them in their classes and activities. From the time that
I've been able to spend with the students that I had the fortunate
opportunity of interacting with as a volunteer for my uncle's
dentistry, Grace Dental, and our service trips to Mexico, Cambodia,
and Vietnam
over the past six years, as well as the students of The Mariposa
Foundation in the Dominican Republic and their best efforts to
communicate with our team of volunteers for EF Educational Tours,
they cumulatively inspired me to pursue a career in Communication
Sciences and Disorders.
Within California, where the majority of my work is based, I've had
the ability to actively engage in a wide variety of extracurricular
ventures on a weekly and monthly basis. Having been a part of Truly
Absolute for six years so far, I've served as a mentor to
low-income students living in motels throughout cities all across
Southern California such as Anaheim, Buena Park, and Hawaiian
Gardens. Through instruction and stimulating activities, such as our
weekly after-school art, dance, science, and academic enrichment
programs, our organization hopes to provide underprivileged students
with opportunities to discover their true potential with one to two
hour sessions. Through Peer1on1, an Orange County based non-profit,
I've been able to work with autistic students from the ages of 5-18
on a monthly basis. The purpose of our program is to target autism by
encouraging autistic students to interact with teen volunteers who
help them in building basic social skills. In holding all day
activities like nature hikes at El Dorado's Nature Center, we've
been able to pair up autistic students with teen volunteers and
provide them with the capacity to truly get to know each other. One
of my most difficult moments as a volunteer, however, came when I was
working with and overseeing Conversation Table, a largely interactive
public speaking program at the ABC Adult School. Initially, the time
that we dedicated to the adults attending our weekly sessions sadly
appeared to result in little improvement. The majority of them were
still speaking in their native language and lacked the
capacity to properly respond to the questions that we posed. In March
2014, I had been promoted to the head of the program and soon saw how
ineffective this structure was and took charge in organizing
specialized curriculum tailored to the needs of each of our students.
Even after ten or twenty years, I'm so excited for the kind of
impact that these organizations will be able to continuously
implement with volunteers who share a
forward-looking mindset like my own – a type of mindset that will
constantly encourage a sense of positivity and a yearning to
cultivate further growth and development in spite of any obstacles
that one may come across.