Name: Meredith Mosley
From: Union Grove, AL
Grade: 11th (12th in 2016-2017)
School: Brindlee Mountain High School
Votes: 80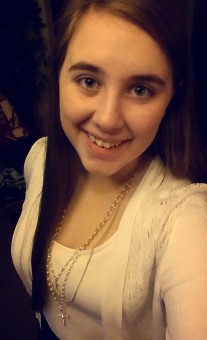 Education's
Influence
Throughout my life, I have become highly involved in volunteer activities in
both my school and my church. These have included short food or
clothing drives, serving at community events, leading crafts and
music for children's events at church, and helping at a
distribution ministry in my community. While all of these experiences
have been extremely rewarding for me, my favorite place to volunteer
is the primary and elementary school.
My junior and senior year, I have tutored students at the lower level
schools in my system for about two hours each week during my free
classes. This has been a perfect opportunity for me as I want to
become a teacher. In addition to allowing me to prepare for my
future, though, tutoring is "forward looking," or making a path
for the future, by letting me make an impact on the children. If they
are struggling with reading or math, I have the chance to help them
learn from a new perspective. They are able to gain extra practice in
the areas of their education in which they need more. Without this
extra practice, they may struggle further in their schooling,
preventing them from going into the career they should. In many
years, I can know I have had a small part in their occupational
journey. These children could be our future politicians, scientists,
and doctors making progress in our world. As Nelson Mandela
expressed, "Education is the most powerful weapon which you can use
to change the world."
When I tutored the students, I helped them read books and complete math
and vocabulary worksheets. With some, this came very easily. With
others, however, I struggled to find ways to motivate them to do
their work. Some students in every grade will have a reluctant and
begrudging attitude toward schoolwork. When working with these
students, I have constantly needed to push them to move on from one
problem to the next. As we continue through the year, they sometimes
begin enjoying their work more and resisting it less, which is a very
fulfilling transition to witness. I have learned how to motivate
students into enjoying their work, and I now know when I teach later
in my life, I will be able to get this same fulfillment each year.
Volunteering, to most people, is about helping others so they may receive a reward.
Those who do volunteer, though, know it is more rewarding for
themselves than those they are helping. Tutoring students has
rewarded me through experience for my future and satisfaction in
volunteering, both of which I will take with me through the rest of
my life.