Name: Madison Rice
From: RICHARDSON, Texas
Grade: 11
School: Richland Collegiate High School
Votes: 0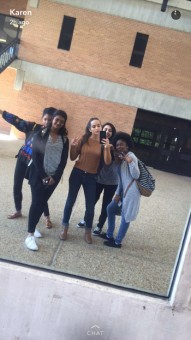 Kerala
Tourism Scholarship Madison Rice
I
have never left the United States of America; however, I would be
lying if I said I have never been exposed to various flavors of
different cultures. Although my body has only "traveled" to
Florida, Arkansas, Illinois, and Georgia, my mind has set foot on
lands as far as Pakistan, India, South Korea, Egypt y España.
I have tasted, danced, and learned about Palestine, Nepal, Mexico, El
Salvador, Japan, and Turkey. Interestingly, the first time I traveled
the world was the day I went to a new high school after eighth grade
at fourteen years old. I wasn't a ruler of the middle school like the
other girls. The other girls must have been sisters, because they all
looked the same; blonde hair, rosy cheeks, and marshmallow skin. I
always wanted straight, bouncy hair just like Sandy's in my favorite
movie Grease, but that was a difficult request. I was an outlier with
curly hair, sun-kissed cheeks, and chocolate skin. The same rules
applied in my previous neighborhood, only the children were much
older and wrinkly than I was. I remember when I tried to become
friends with the beautiful African American girls in that tiny
school, but they would not accept me because my skin was lighter, and
told me I was not "a real black girl." I was unqualified
even in my own race. Due to this disadvantage, I had little stories
to tell my mother when she asked, "Anything fun happen today?"
I
remember everything. I remember my heart dropping to my feet the
second they stepped on the grey pavement that smelled like fresh
rain. As I lumbered closer and closer to my new school, a
kaleidoscope of butterflies fluttered in my stomach to remind me of
their presence. My mother and I weaved our way through the blue,
orange, and green jungle of hallways to reach the auditorium. As soon
as we entered the room, I saw a girl who looked like me holding her
father's hand. I have a twin? To the left I saw another me, and then
another, and more doppelgangers after that. Interestingly, there were
girls who had hidden their hair under scarves of many colors similar
to the halls. As I absorbed my surroundings within the congested
room, varieties of hairstyles, cheeks, and skin colors began to seize
my full attention; it was as if I looked at the stars and discovered
more and more constellations the longer I stared into infinity. Every
school uniform in the room belonged to a student of an origin
different from mine. My eyes wandered in myriad directions, and I
realized there would be no ruler at this school. This was the day I
met Aminah from Pakistan, Geebee from South Africa, Raheeq from
Egypt, Tarish from Punjab, Aious from Nepal, and Madelyn from down
the street. After I settled myself into the car seat, my mother began
her questionnaire with, "How was your first day of high school,
the big kahuna, the huge grade of nine?" I began to tell her of
how I traveled the world in eight hours.