Name: Emily Laughead
From: Urbana, Illinois
Grade: Freshman in College 2016-2017
School: University of Illinois at Urbana-Champaign
Votes: 0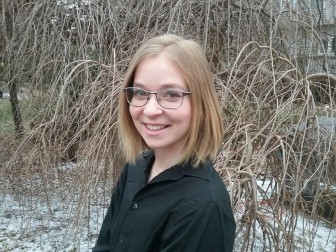 At
four years of age, I lost my childhood, I lost my ability to be
spontaneous; I lost the freedom to eat whatever I want whenever I
want without negative repercussions. I was diagnosed with Type 1
Diabetes. Type 1 Diabetes is an autoimmune disease in which the
pancreas stops working and fails to produce insulin, resulting in
elevated blood sugar levels which can cause many immediate and
long-term conditions, including death.
But
instead of just going through the motions to treat my disease, I
decided, with my family's help, that we were going to help those Type
1 Diabetics who could not or would not speak for themselves. In 2005
my family and I started the organization Emily's Hope, Type 1
Diabetes Education and Awareness. I have a website,
www.emilyshope.org that teaches those who are newly diagnosed or do
not have the disease what I have to do to live a healthy life and how
to take care of myself. On the website there are different topics
such as educational comic strips, facts about diabetes, links to
articles about medical breakthroughs regarding Type 1 Diabetes, and
also a section dedicated to my JDRF advocacy.
Regarding
advocacy, I have given speeches to local corporations and congress
people, I have participated in the JDRF Walk to Cure Diabetes for the
past 13 years, and I participate in parades and have booths at local
fests all with the goal of educating people about my disease. In
2013, I was selected, along with 150 other Type 1 Diabetics, to be a
part of JDRF's Children's Congress to speak with my senators and
representatives about how devastating a disease Type 1 Diabetes is,
and to push for further funding for possible breakthroughs regarding
the disease. I have earned several awards and a few scholarships for
my advocacy, which is gratifying knowing that I can make a positive
impact in the community.
I
will continue to advocate for my disease. It is a very prevalent
disease; there are three million people in the United States alone
who have Type 1 Diabetes, yet many people are misinformed. I also
have an Emily's Hope Type 1 Diabetes Education and Awareness Facebook
page that regularly posts facts and breakthrough articles about Type
1 Diabetes. I also help raise money for my disease, and every dollar
earned goes to JDRF to be put into research for different therapies
and breakthroughs. With education and research, the life of a Type 1
Diabetic can be managed. Since 2003, I have raised over $62,000 for
Type 1 Diabetes; I will continue to do so for the rest of my life or
until a cure is found.
A
couple of years ago, my dad was telling me about a show he saw that
had to do with Materials Science & Engineering. He told me about
all the different things materials engineers can do and a light bulb
went off in my brain; I knew that was my gateway to make a
difference. So I did some research into Materials Science &
Engineering, and what I found was incredible. From developing new
materials, such as longer-lasting joint replacements, to
understanding biomolecules to improve medical treatments, to creating
artificial organs, the possibilities of using Materials Science &
Engineering with biomaterials are endless.
I
truly believe that is the next step for me in terms of continuing my
contribution to the world. I
want to earn a degree in Materials Science and Engineering. I am
currently enrolled the College of Engineering at the
University of Illinois at Urbana-Champaign. It has one of the
highest-ranked Materials Science and Engineering programs in the
country, and I am confident that I will be successful.