Name: Nicholas Tarplee
From: Newark, NY
Grade: 11th
School: Newark Central High School
Votes: 0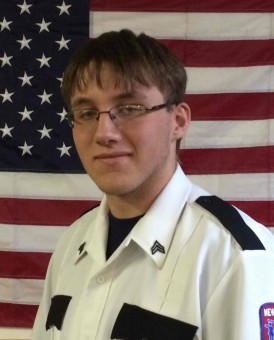 Whenever I'm
asked to introduce myself there's one thing that I never leave out,
that's my role in the Newark Arcadia Volunteer Ambulance (NAVA)
Junior Membership Program. It's usually the second thing I say,
only preceded by my name. I take pride, and always have, in my work
and time that I have put into the Junior Membership over the past
3-plus years.
To describe the program in short, we are a group of now nearly 30
strong Junior Members that work together in hopes of learning basic
Emergency Medical Technician (EMT) level skills and enhancing our
knowledge of healthcare operations and career opportunities. We also
put major emphasis on,improving comradery, and the benefits of and
volunteering; whether that be through training, drilling or
lecturing.

In the various leadership positions that I have held, including Head
Junior Member (principle assistant to the Supervisor), I have had the
pleasure of teaching my fellow Junior Members, and prior to being
elected to leadership, learning alongside them. I feel that my
passing along of this knowledge will help keep the Junior Membership
up and running, which brings a plethora of benefits to the community,
not the least of which is the continued training of high class EMTs
and paramedics. I have seen my Junior Members, and myself, grow in
knowledge, skill, maturity, and ability to work together as a team.
In my time at NAVA I have achieved the rank of Sergeant 1st
class. As of two years ago, when I was promoted to Sergeant, the
Junior Membership Program allowed me to begin riding on the Ambulance
with Corps certified Field Training Officers (FTOs); assisting the
paramedics in any way that they wish. For example, I can vividly
remember a call where we had to pick up a patient with chest pain, I
set up the 4-lead ECG and we were on our way. While the paramedic had
to prepare the IV, the elderly man was having severe hypersensitivity
so I held his hand and kept him calm. It's simple moments and
things that I help with that make me proud of my work. I have taken
calls with several FTOs, totaling about 15 calls over the past 2
years. Yet still, every time I step off of the ambulance following a
call, I feel a rush of emotion. That is the feeling I get from
helping people. Knowing that I've helped someone, especially when
I've potentially saved their life, in my opinion is one of the
greatest feelings possible. Not many people get to experience that
feeling, and I am forever grateful that I have had the opportunity to
experience it many times.
I love volunteering for my community in this way. There will truly be
nothing like it again in my life time. The feeling of fulfillment I
get every time I volunteer with NAVA is unlike anything I have ever
felt before or will probably ever feel again.