Name: Amelia Goldstein
From: Arnold, Maryland
Grade: agoldstein@mcdonogh.org
School: agoldstein@mcdonogh.org
Votes: 1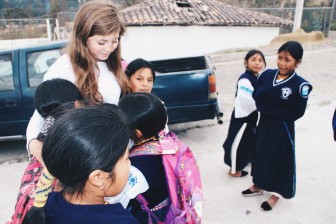 Mimi
Goldstein
April
18, 2017
McDonogh
School
Expanding
Access to Medical Care
Healthcare
is a basic human right. Our goal, as global citizens, should be to
insure that all people, regardless of wealth, have the opportunity to
live healthy lives. The vast majority of the developing world does
not have access to essential health services.
Over
the course of 10 months in 2015 and 2016, I traveled with my
physician parents to 15 countries and worked with 9 different
nonprofits and NGOs to provide medical care to the impoverished and
underserved. I volunteered in the Amazon Basin, providing medical
care to the inhabitants of isolated villages on the outskirts of
society. In addition to taking vital signs and patient histories, I
worked as a translator due to my Spanish fluency and explained
diagnoses and prescriptions to the thousands of patients we saw over
the course of 5 months spent in rural South America. We also
volunteered in Vietnam, Thailand, and Cambodia, distributing
medication and treating patients with chronic diseases. While in
Vietnam, we worked in orphanages with a nonprofit organization
treating children who have never seen a doctor before.
Having
experienced the benefits of my personal healthcare access juxtaposed
with the lack of access I witnessed during our volunteer experiences
globally, I now clearly see the need for increased action and
awareness in my own community. As a result, I co-founded a club at
my high school through Timmy Global Health which helps fundraise and
provide medication for future medical brigades. I also founded the
Students for Environmental Action Club which has already implemented
my school's first composting system in the efforts to make our
community greener. I am also working with a couple of my peers to
bring sustainable solar energy to our campus over the next couple of
years.
I
am acutely aware that healthcare access is not only an issue that
plagues the developing world, but also negatively affects millions of
Americans. In an effort to improve education and future healthcare
access issues, I participate in a weekly tutoring program on Sundays
for disadvantaged Hispanic students from Baltimore.
My
continued efforts to improve access to basic healthcare in all
corners of the earth is highlighted by my return to volunteerism last
August with my medical trip to the Dominican Republic with Timmy
Global Health. We were able to treat hundreds of Dominican and
Haitian patients at the Haitian border affected by the devastating
earthquake in 2010. I will be participating in an upcoming Timmy
Brigade were I will be delivering the hundreds of sunglasses and
toothbrushes our McDonogh School Timmy Global Health chapter
collected during our recent supply drive.In addition, my father and I
tested a new method for treating cervical cancer for patients in Peru
and Cambodia who lack direct access to physicians or Pap Smears. In
late April, I will present our findings at the Congress on Women's
Health in Washington, DC, with the hope of revolutionizing the
cervical cancer prevention programs in impoverished communities.