Name: Elizabeth Young
From: San Dimas, California
Grade: 12
School: San Dimas High School
Votes: 0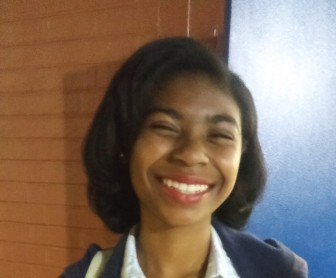 I
chose to volunteer at the Aquarium of the Pacific in Long Beach
California even though it was an hour drive every time I needed to
go. I chose this because I am very interested in Marine Biology and
it was a great opportunity to expand my knowledge of ocean organisms
as well as help others expand theirs. In total I completed 83 hours
and 42 minutes working at the aquarium by attending for about 5 hours
over 13 shifts with two trainings that were 8 hours each. As a
volunteer, I stood at a table in the aquarium and got peoples'
attention so they would come over as I explain the game that I have
on my table designed to teach them about marine life. My biggest
challenge was learning to be social because I am mostly an introvert
but I needed to be good at my job and because of this I broke out of
my shell in many ways rather than the one. Earning Volunteen of the
week in the first shifts that we attended gave me the most
satisfaction and taught me that I can do anything I put my mind to as
long as I try. I do see my activities as forward looking and this is
because a large focus of the aquarium is conservation and the whole
point of conserving now is so that in the future, others will still
be able to see the ocean's beauty and experience a wholesome Earth
with plenty of things to see and explore. To me, forward looking
means thinking about the future and planning now what we can do to
achieve the goals we set. I hope to aid in the environmental
conservation efforts with my volunteer work; I plan to start my
career in Marine Biology and end it in conservation of the planet and
its ecosystems because I love the beauty of the Earth and I hope that
my great grandchildren can too. I like to think that my volunteer
efforts will make a difference because anyone that goes to the
aquarium will learn facts about marine organisms and their uses, like
the kelp in toothpaste, or even their diverse oddities, like baleen
whales versus toothed whales. I hope that the knowledge given to them
during their visit to the aquarium will help them connect to the
cause and feel the beauty of the planet so that they can enlighten
others and soon enough conservation will be widespread and
deforestation will be at a minimum, pollution will cease, and people
can live happier lives with beauty all around them.