Name: Joseph Rangel
From: Des Moines , IA
Grade: 12
School: Des Moines East High School
Votes: 0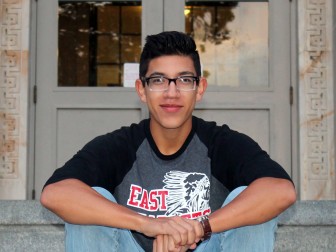 Ever since I was born, I loved to drum, but I never would've thought that it would take me anywhere… My parents have always told me that when I was young, I would find anything to bang on, from pots and pans to the kitchen floor to even the living room walls. I always had to be drumming on something. My parents immediately realized that they had to do something about this passion that they saw, so they bought me my first snare drum, and enrolled me in the school band.
I've been playing percussion in a school band for almost 8 years now, but it wasn't until my junior
year of high school that I started to volunteer as the drumline section leader. Being a section leader required that I spend 5-10 hours a week during marching season working with the drumline on our
material. This added up to be a lot of time outside of school and work, but nevertheless, I loved every single second of it. The time that I would have to myself I mostly spent coming up with more creative ways to make the drumline better, or flashier. I loved teaching my fellow drummers everything that I knew, and they seemed to really enjoy it as well. Over the months of working together, we started to develop a kind of chemistry and familiarity for one another. I also really enjoyed being able to give advice to my fellow
drummers on what they were struggling with, because I went through those same struggles at one point as well.
Volunteering as a section leader has given me the skills that it takes to become a good teacher, and it
has shown me what techniques work and don't work. This is very important to me because of the major that I want to pursue. I want to become a teacher in secondary education, and working with my fellow high schoolers has definitely shown me the way they think and their thought process. It has shown me what techniques get them to learn the best and most efficiently.
With the activity that I volunteered in, I wished to give my fellow drummers motivation to become better. I constantly drove them to practice as much as they could, and to look up music on their own. I hoped to teach them character. If I were to come back in a decade or two I believe that I would see a significant difference in the personalities of the drummers, and the skills that have been passed down from generation to generation.
Volunteer activities are great, not just for students, but for people in general. Activities like this help
better your personable skills and prepare you for your future. They help shape your character. Volunteer activities also give hope, that maybe there are some good-hearted people in this world after all.